China takes fintech sector by storm
Chinese shoppers can now enjoy a real-time VAT refund service via their mobile phones at three airports: Milan Malpensa, Munich and Helsinki, saving them weeks of waiting time if receiving refund by card.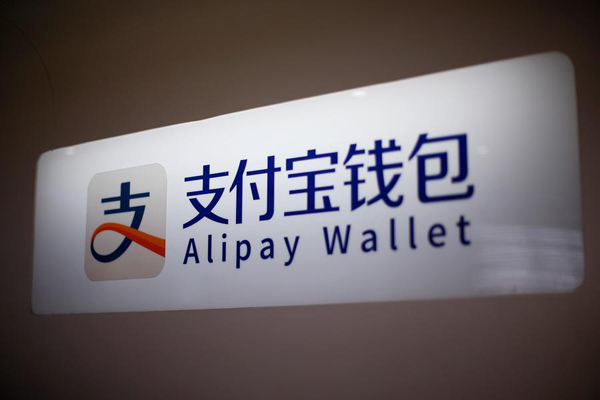 An Alipay logo is seen at a train station in Shanghai, February 9, 2015.  [Photo/Agencies]
The announcement, made on Thursday by Chinese fintech firm Ant Financials' payment arm Alipay, is the latest milestone in Chinese fintech companies' overseas expansion. Last month Alipay collaborated with Finnish mobile payment provider ePassi to begin taking mobile payments for shopping and services on Finnair's flights, marking the first ever mobile payment service in air.
"In the fintech and mobile internet sectors, China is a global leader thanks to business, innovation, market size and population density", said Alexander Yin, chief financial officer of TCG, parent company of the Finnish mobile payment provider ePassi.
The fintech sector grew rapidly in the wake of the 2008 financial crisis as the downturn cast traditional banking models into doubt.
China's strong start-up culture, significant venture capital availability and need for alternative financing have all contributed towards its fintech boom.
A 2016 report by KPMG - a professional service company and one of the Big Four auditors - and the Australian investment firm H2 Ventures notes that five of the world's top 10 fintech firms are Chinese. Ant financial topped the list. Another report by EY noted China has eight of the world's 27 fintech unicorns - start-ups worth more than $1 billion - and last year received more than 2 billion pounds of investment.
The UK has signed an agreement with China to help cross-border fintech investment in November 2016. The Irish Minister for Financial Services Eoghan Murphy also recently led a delegation of fintech firms to visit China in search of opportunities along the Belt and Road countries.
Other notable Chinese fintech firms expanding into the UK include big-data firms Wind Financial Information and BBD, both of which established London operations last year.
BBD, known for its innovative data analysis algorithms, is now developing indexes specific to the UK and European markets, with one index assessing credibility and risk profile of UK crowd funding platforms and companies, expected to be launched in the second half of 2017.
Wind Financial Information, dubbed the "Chinese Bloomberg terminal", is eyeing opportunities to sell its data on Chinese and Asian asset classes including equities, bonds, funds and commodities to European investors.
Thomas Zhang, General Manager of Europe at Wind Financial Information, said: "We are seeing more interest in China's markets from global institutional investors. If China's A-share is admitted into the MSCI index one day, there will be a further boost to the global demand for China-related financial data."