Trump's aggressive moves stir unease
Chinese tech workers could be affected by visa changes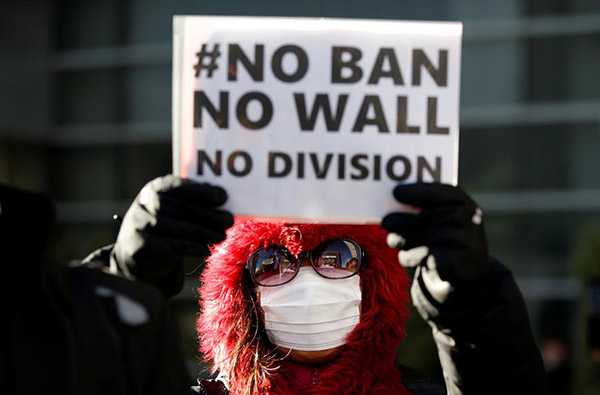 A woman holds a placard to protest against U.S. President Donald Trump's travel ban near the US Embassy in Tokyo, Japan, January 31, 2017. [Photo/Agencies]
Less than two weeks into his term, US President Donald Trump has already begun delivering on his top campaign promises, from ditching a trans-Pacific trade deal and announcing details of his planned wall on the Mexican border, to slapping a temporary ban on immigration from seven Muslim-majority countries.
With the president's actions also stirring a firestorm of criticism, observers of Sino-US relations are cautioning Beijing to remain "prudent" and "prepared" for butting heads with Washington in negotiations.
They also suggest the world's top two economic powers avoid a trade war for the good of both countries.
"This past week has been shocking," Gordon H. Chang, director of Center for East Asian Studies at Stanford University, told China Daily in a written response to questions.
Chang said he believes chances for a difficult and dangerous period ahead in China-US relations have increased as Trump seems to be pushing his agenda ahead aggressively without thought or deliberation.
Asked about the likelihood of Trump fulfilling all of his China-related campaign promises, the professor of history said, "He won't forget about China; he also plays to the public and China bashing is popular in the US."
Chang said China should be "careful but firm" and "prudent" and see what Trump will do.
Nicholas Hope, former director of the China program at the Stanford Center for International Development, said that although he has no grounds to conclude that Trump will be able to follow through on all of his campaign promises, actions to date suggest that he intends to do so, no matter how they affect the United States' long-term interests.
"As the two largest trading powers, at all costs the two countries must avoid being drawn into a punishing trade war that could send the world back to the 1930s," Hope said.
Zhang Zhixin, head of American political studies at the China Institutes of Contemporary International Relations, said the US under Trump's watch is ready to defend its economic and security interests, even at the risk of taking on other countries, be they friend or foe.
Trump's determination to expand employment by discouraging US companies from investing overseas has been welcomed by many underprivileged US citizens, Zhang said.
The new administration's plans also might affect professionals from China and other countries hoping to secure a job in the US.
Reports said the H1-B work visa program that allows US employers, particularly Silicon Valley giants, to hire top foreign professionals also faces changes as "part of a larger immigration effort", said Wang Dong, an associate professor of international studies at Peking University and secretary-general of the Beijing-based think tank Pangoal Institution.
It is possible that Trump could lower the number of work visa applications from the annual quota of 65,000 set aside for "specialty positions", Wang said.
"A renegotiation is also likely, but the pain will soon be felt by US companies and work-visa applicants, a lot of whom are Chinese" he said.
Trying to prevent immigrants from entering the US illegally, and deporting those who are already in the country, partly in the name of combating terrorism, is arguably an effective if controversial way of securing jobs for local blue-collar workers, Zhang said.
"That does not bode well for Beijing, which may have to prepare for head-to-head negotiations with Washington on trade, diplomacy and security," Zhang said.
Under Trump's tougher vetting of immigrants, which he said is needed to prevent terror attacks, he has ordered a 120-day hold on allowing refugees into the US, an indefinite ban on Syrian refugees, and a 90-day ban on entry of citizens from seven predominantly Muslim countries.
"How far Trump will push the envelope on immigration and what he might do to bypass institutional barriers remains unpredictable," Wang said.
"But one thing is clear: 'Make America Great Again' will be coupled with continued bitter confrontations between him and his opponents and chaos may follow," he added. The slogan was heavily used by Trump's presidential campaign.
Contact the writers at zhaohuanxin@chinadaily.com.cn