US Senate committee backs Tillerson as Trump's secretary of state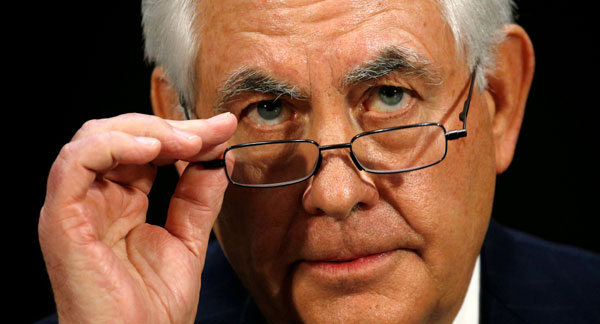 Rex Tillerson, the former chairman and chief executive officer of Exxon Mobil, testifies during a Senate Foreign Relations Committee confirmation hearing to become US Secretary of State on Capitol Hill in Washington, US January 11, 2017. [Photo/Agencies]
WASHINGTON - US President Donald Trump's choice for secretary of state, former Exxon Mobil Corp Chief Executive Officer Rex Tillerson, narrowly won approval from a Senate committee on Monday but is expected to win confirmation from the full Senate.
The US Senate Foreign Relations Committee voted 11-10 to approve Tillerson, with every committee Republican backing Tillerson and every Democrat opposing his nomination.
His backing by the committee had been in doubt until earlier on Monday, when Republican Senator Marco Rubio, a committee member, said he planned to back Tillerson.
His confirmation vote in the 100-member Senate, where Republicans hold a 52-seat majority, is not expected before next week.
Rubio said he was troubled by Tillerson's comments during his confirmation hearing regarding Russia as well as other countries, but that he ultimately decided he would vote to approve the nominee in deference to Trump, as well as to fill a critical top job.