2017 Cambridge Chinese New Year Gala wins applause abroad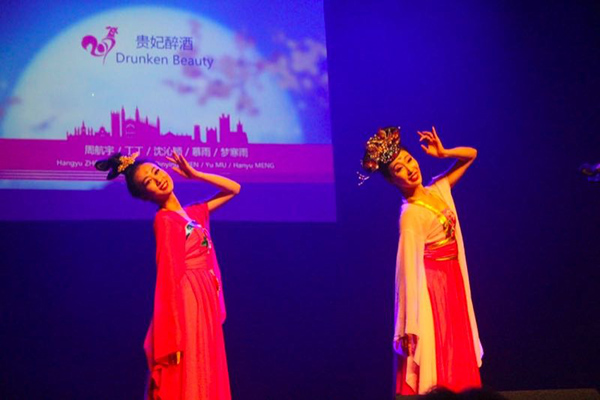 Students of Cambridge University perform the traditional Chinese dance Drunken Beauty at the 2017 Cambridge Chinese New Year Gala in Corn Exchange, Cambridge, on Jan 20, 2017. [Photo/Zhou Xingzuo]
LONDON – The Chinese Students and Scholar Association in Cambridge (CSSA-CAM) held a Chinese New Year Gala in the Preliminary Eveon Jan 20 in order to celebrate the coming Year of the Rooster with a theme of Cambridge Reuniting Our Love for China.
About 1,000 Chinese and foreign people have been attracted to this annual celebration, with the Mayor of Cambridge delivering a gratulatory speech.
A variety of fantastic performances, including dancing, singing, acrobatics and magic shows, have taken place in the Corn Exchange located in the Center of Cambridge County. It is, for overseas Chinese, a precious time to unite and enjoy a happy reunion, and for our foreign friends in the UK, an unprecedented chance to be exposed to diverse Chinese culture.
More than 60 performers have been devoted to the successful event, in which Li Guangjie, an experienced Chinese mainland actor, Zhu Yunbian, a talented Hong Kong Erhu performer, and LÁSZLÓ ATTILA, a rising Hungary music star presented exclusive shows as the gala's special guest-performers.
Founded in 1984, the CSSA-CAM has witnessed rapid growth in recent years and has become one of the largest and most influential student-run organizations at the University of Cambridge today.
"The association aims to organize top quality events including forums, conferences and talks for students, scholars and the general public in Cambridge; among which the CSSA-CAM Chinese New Year Gala is one of our biggest and best-known annual event", said Cen Zhang, the president of CSSA-CAM.
This is the twelfth year that the CSSA-CAM has organized the Chinese New Year Gala since the first in 2004.