British PM calls for early Brexit talks with new European Parliament president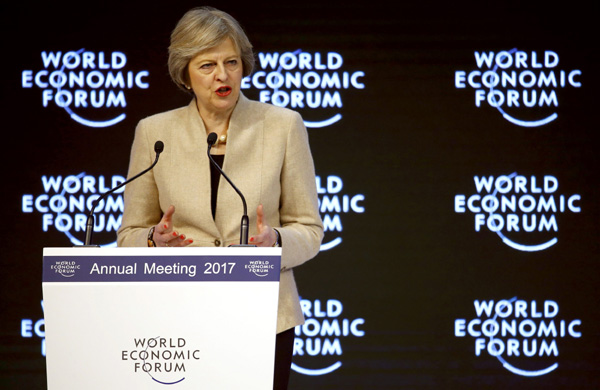 Britain's Prime Minister Theresa May attends the World Economic Forum (WEF) annual meeting in Davos, Switzerland January 19, 2017. [Photo/Agencies]
LONDON - British Prime Minister Theresa May called Saturday for an early meeting with the new president of the European Parliament Antonio Tajani to discuss Britain's exit from the European Union.
An official Downing Street spokesperson for May said the prime minister spoke by telephone to Tajani to congratulate him on his election to the presidency of the European Parliament.
During the conversation May said she was keen to arrange a meeting in London as soon as practicable to discuss various issues, including Britain's exit from the European Union.
"She referenced her speech this week in which she set out the UK's priorities in the forthcoming Brexit negotiations, and reiterated that we would continue to play a full part in and meet our obligations to the EU while we remain a member," May's spokeswoman said. "They agreed to work together to ensure continued good relations between the UK and EU, while the Brexit process is ongoing and thereafter."