Chinese securing their places at inauguration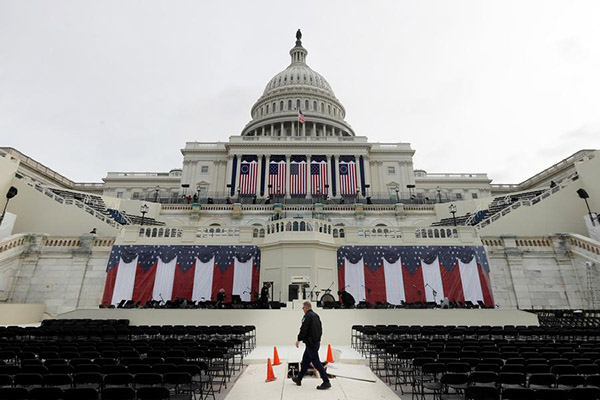 Workers prepare for the inauguration of US President-Elect Donald Trump at the US Capitol in Washington, DC, US, January 19, 2017. [Photo/Agencies]
Over the past several months, Chinese have been paying an unprecedented amount of attention to American politics — on social media and at dinner tables. On Friday, a group of them will stand at the west front of the Capitol Building to see Donald Trump sworn in as the 45th president of the United States.
"They are not here just to see a new US president or a businessman who becomes a president. They are here to see Trump," said Yang Jingzhu, founder of AmeriChina, which partners with US charities to bring Chinese clients willing to pay a high price as a charity donation to attend exclusive American events, including the Academy Awards and Berkshire Hathaway's annual meeting.
"Unlike those annual occasions, this is a one-time historical event," she said.
Yang started marketing a $15,000 package to the official inauguration ceremony and the formal ball two days after Trump won the election.
Ding Chenling from Beijing is one of Yang's clients. He is the founder of Redbang, a Chinese internet celebrity consulting firm, and has written a commentary on the Trump phenomenon. The piece has been read by millions.
"I'm here to see Trump and to see how divided America is," said Ding, who had studied in the US as an exchange student 20 years ago. "I want to see how much has America changed."
LLL International Travel, a New York-based travel agency, is leading a group of Chinese businesspeople to participate in the inaugural events. A few of the people are on Hurun's China Rich List, though the agency declined to disclose their names.
"They want to witness this historical moment because Donald Trump is a very controversial figure. There is lots of curiosity," said Susan Chen, marketing manager.
"Secondly, it may be helpful for their business in the future. They can say, 'I attended the inauguration' if a conversation with the US comes up or so. And it's personal branding too," she said.
Yang said she expects to see a good number of Chinese, many of whom could be businesspeople, at the show. Tickets are available from various unofficial channels — individuals, travel agencies and organizations — if one is willing to pay for it.
"Many of my friends from China showed interest in it," said Daniel Lou, president of Long Innovations International Group and a New York-based Trump supporter.
"It's a good opportunity for networking and experiencing first hand the changes in American society, and to explore business opportunities," he said.
Chinese Americans also will be represented at the ceremony, including supporters, businesspeople and community leaders.
In a WeChat group, some 100 Chinese-American Trump supporters were discussing the plans for their victory trip. They rented Airbnb homes together, invited newcomers to crash on their sofas and shared the latest announcements on road closures and tips for parking and taking the metro.
Ding said he has met many Chinese Americans in business in Washington who hope to figure out where their country is heading in trade and other areas.
"It's a turning point in history. People are looking at how it goes," said Yan Xiaozhe, executive director of the Chinese Association of Iowa. "I want to hear Trump's speech. I also want to see protests on Saturday."
Contact the writer on hezijiang@chinadailyusa.com