Cities do battle for Lucas art museum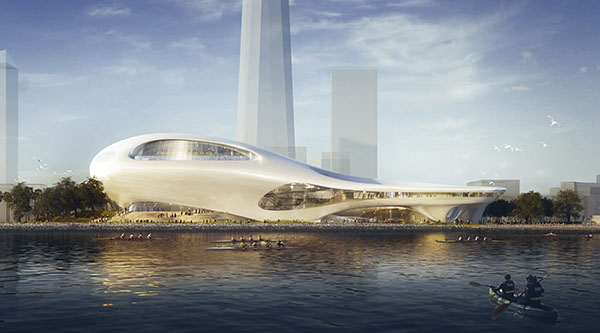 This concept design provided by the Lucas Museum of Narrative Art shows a rendering of their proposed attraction in Exposition Park in Los Angeles. In January, filmmaker George Lucas is expected to decide whether he will put a museum for his extensive personal art collection in San Francisco or Los Angeles, after other attempts were upended by community opposition. [Photo/AP]
George Lucas is no stranger to epic struggles on the big screen, but he didn't expect one off-camera when it came to his art collection.
For nearly a decade, the filmmaker has tried to build a museum to house an extensive personal collection that includes 40,000 paintings, illustrations and film-related items. But legal entanglements and other complications have thwarted his efforts.
After several false starts, Lucas and his art team say they will decide later this month whether to put the museum in San Francisco or Los Angeles, a strategy that has stirred a California rivalry.
The prize is big, and both cities want it badly.
"This is the largest civic gift in American history," said LA Mayor Eric Garcetti. "I think Los Angeles is the natural home for it"-a notion that San Francisco officials enthusiastically contest.
The Lucas Museum of Narrative Art, as it will be called, promises hundreds of jobs and a high-profile attraction-and it's essentially free.
The Star Wars creator is financing the project himself. He plans to spend more than $1 billion to build the museum, endow it and provide a trove of initial artworks valued at over $400 million.
Together with Chinese architect Ma Yansong, Lucas has proposed a sleek, futuristic design that looks like a cross between the Guggenheim and a galactic starfighter.
The museum's bold design and concept make clear that the 72-year-old filmmaker sees it as part of his legacy, and he is increasingly impatient to break ground.
"It's not just an enormous philanthropic gift to a city and to the world, but it is a unique museum in the way it is envisioned," said Don Bacigalupi, an art historian and respected museum director Lucas hired as its founding president.
"Certainly, we'll be looking forward to the day we can move the art into a museum."
The museum will not, as many assume, be a repository for Star Wars memorabilia.
It will, however, show how Lucas spent some of his film-making fortune and that his interest in art extends beyond movies.
An avid collector for more than 40 years, Lucas is giving the museum some 10,000 paintings and illustrations that include dozens of Norman Rockwells and works from French impressionist Edgar Degas to American contemporary artist Keith Haring. There are illustrations for classic children's books by Beatrix Potter of Peter Rabbit fame and Jean de Brunhoff, who created Babar.
The museum gets its pick from some 30,000 film-related pieces including storyboards and costumes from The Wizard of Oz, Casablanca, and, naturally, Star Wars.
There's art from comic books, graphic novels and other works that Lucas hopes will attract people who don't typically visit museums.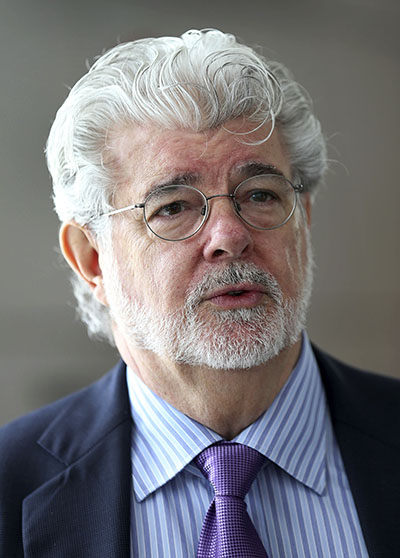 File photo of George Lucas. [Photo/China Daily]
In 2010, Lucas first pitched his project to San Francisco and considered a site in the Presidio, but the trust that oversaw the park ultimately rebuffed him. He then took his project to Chicago, his wife's hometown, but preservationists sued to keep it off the lakefront.
Lengthy delays prompted Lucas to abandon that bid in June and change strategy.
"No one benefits from continuing their seemingly unending litigation to protect a parking lot," he said at the time.
In October, Lucas unveiled similar but competing designs for Los Angeles and San Francisco sites, turning the project into a public competition. It seems to have worked.
Government leaders in both cities have unanimously approved it. And officials are quick to stress that this time there is no apparent opposition, and construction could begin quickly ahead of a projected 2020 finish date.
Later this month, Lucas is convening the museum's board to decide between two distinct locations.
In San Francisco, his project would virtually have an island unto itself.
The city offered Lucas a 1.6-hectare waterfront plot on Treasure Island, a man-made creation in the middle of the bay with cinematic views of the city skyline.
Los Angeles has offered Lucas a 3-hectare spot in Exposition Park, a sprawling cultural compound that holds three other museums and the Coliseum.
"These are two spectacular places. Two great cities," Bacigalupi says. "It's a tough decision. But for all the right reasons."