29 former Turkish police put on trial over failed coup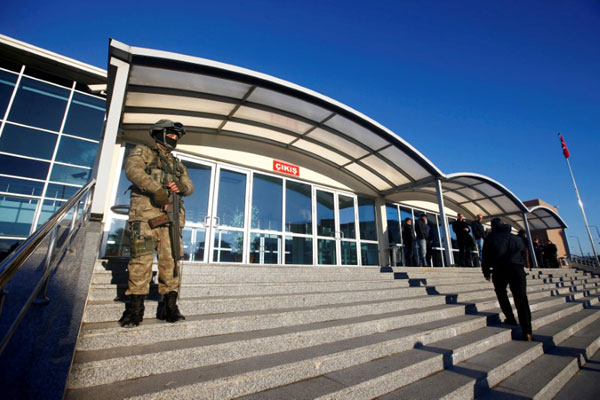 A Turkish soldier stands guard outside the Silivri Prison and Courthouse complex during the first trial related to Turkey's failed coup, in Istanbul, Turkey, December 27, 2016. [Photo/Agencies]
ISTANBUL -- Twenty-nine former Turkish police officers went on trial in Istanbul on Tuesday over their alleged roles in a failed coup in July, local media reported.
It is the first trial of the alleged plotters since the coup bid on July 15, in which 248 people were killed.
The former police officers are accused of attempting to persuade their colleagues and the citizens not to join the anti-coup resistance, the state-owned Anadolu Agency said.
Among the defendants, three are helicopter pilots who were ordered to go to Turkish President Recep Tayyip Erdogan's Huber Palace in Istanbul to provide security on the coup attempt night. CNNTurk said the pilots rejected the accusations at the open hearing.
Press reports said the indictment demands three aggravated life sentences for each of the 21 defendants for attempting the coup and a maximum sentence of 15 years in prison for the other eight for being members of a terror organization.
Of the 29 suspects, 25 have been remanded in custody for not obeying the orders to resist the coup attempt, Anadolu said.
Ankara believes the coup attempt by some in the military was orchestrated by followers of Fethullah Gulen, a Turkish cleric living in the United State and leader of the so-called Gulen movement now branded as a terror group.
According to press reports, over 36,000 people have been arrested and more than 100,000 state employees dismissed in Turkey in the ongoing crackdown launched soon after the coup bid.