US expands sanctions against Russia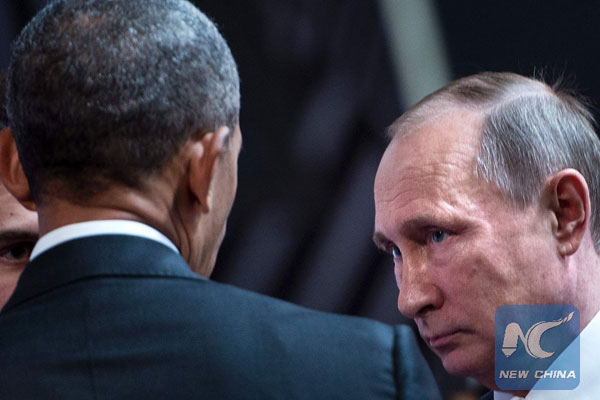 U.S. President Barack Obama (L) and Russia's President Vladimir Putin talk before an economic leaders meeting at the Asia-Pacific Economic Cooperation Summit at the Lima Convention Centre on November 20, 2016 in Lima. [Photo/Xinhua]
WASHINGTON -- The United States on Tuesday slapped additional sanctions on eight more entities and seven individuals linked in relation to the conflict in Ukraine.
The fresh sanctions target companies including Crimean Ports, Crimean Railway and Institut Stroiproekt, a Russian highway construction company, according to a statement by US Treasury Department.
Also blacklisted are seven Russians, six of whom were accused by the United States of helping to offer assistance to Bank Rossiya, which was sanctioned in 2014, or Bank Rossiya's two affiliates, which were also been sanctioned.
The seventh man, Yevgeniy Prigozhin, "has extensive business dealings with the Russian Federation Ministry of Defense," said the statement.
The United States also identified 26 subsidiaries that are owned 50 percent or more by previously sanctioned Russian companies to provide additional information to assist the private sector with sanctions compliance.
Since 2014, the United States, the EU and some of their allies have imposed several rounds of sanctions against Russia for the country's role in the Ukraine crisis.
Meanwhile, Russian Deputy Foreign Minister Sergei Ryabkov told Russia's TASS News Agency that Russia would respond to US expansion of sanction.
"We retain the right to choose the time, place and form of our responsive actions in a way that suits us," said Ryabkov.