Chicago readies for Chinese New Year in 2017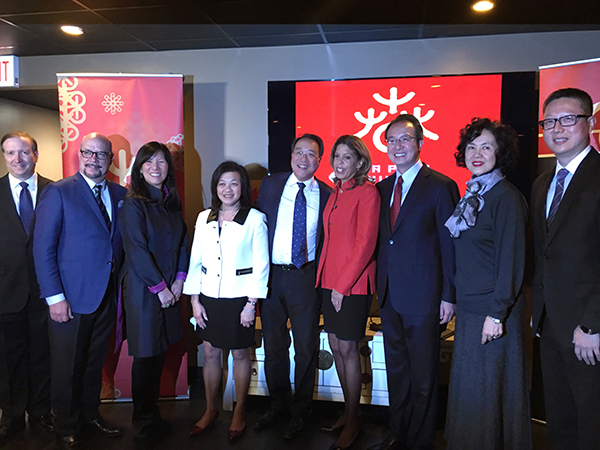 Officials, executives and community leaders at the announcement of Chicago's city-wide Chinese New Year celebration on Dec 1. From left: Jeff Alexander, president of Chicago Symphony Orchestra, David Whitaker, president of Choose Chicago, Julie Tiao Ma, president of the Chinese Fine Arts Society, Sharpen Moy Tu, executive director of Chicago Chinatown Chamber of Commerce, cellist Yo-Yo Ma, Andrea Zopp, Chicago Deputy Mayor, Ling Z. Markovitz, sponsor of Chinese New Year concert and Z. J. Tong of the Chicago Chinese Cultural Institute [Provided by Jian Ping for China Daily]
The Windy City is getting ready for a New Year's blowout — Chinese style.
Choose Chicago, the city's tourism organization, the Chinese Consulate General in Chicago, the Chicago Symphony Orchestra, the Chinese Fine Arts Society and several other local organizations got together on Dec 1 to announce city-wide Chinese New Year celebrations that will last from Jan 28 to Feb 12, 2017.
"Chicago is the first city in the US that has a city-wide celebration of the Chinese New Year," said Hong Lei, Chinese consul general in Chicago. "The performing troupes from China will bring a cultural feast and Chinese warmth to the winter of Chicago."
"Chinese New Year is not just for the Chinese community but for the entire city," said Chicago Deputy Mayor Andrea Zopp. "Our relationship with China is growing and the Chinese New Year celebration is just one more opportunity to further build our relationship."
Jeff Alexander, president of the Chicago Symphony Orchestra, announced that artists from Shaanxi Province Song and Dance Theatre National Orchestra will come and perform traditional Chinese music to celebrate the Chinese New Year at the Symphony Center on Jan 29. Conductor Francesco Lecce-Chong will lead the Civic Orchestra of Chicago and CSO concertmaster Robert Chen in a performance of The Butterfly Lovers.
"Our annual Chinese New Year Celebration concert has become a tradition at Symphony Center," said Alexander.