Death toll in Nigeria's church building collapse exceeds 100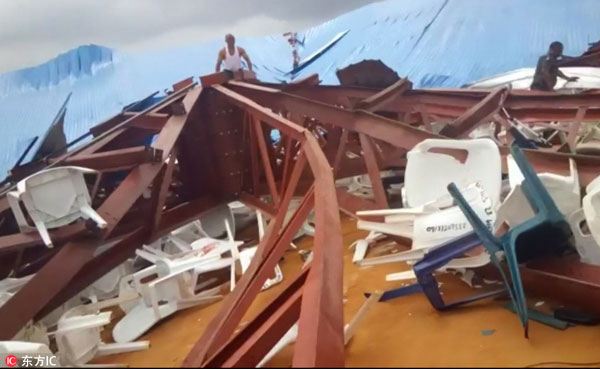 In this image made from video taken on Dec 10, 2016, local people survey the scene after a church roof collapsed in Uyo, Nigeria. [Photo/IC]
LAGOS -- Death toll in the collapsed Church building in Uyo, capital of Southeast Nigeria's Akwa Ibom State on Saturday has risen beyond 100, as casualty figures are being collated from various health facilities, health officials told Xinhua here on Sunday.
The health officials, who wished to be anonymous, disclosed the figure and said many victims are in private hospitals and mortuaries scattered all over Uyo metropolis.
A Xinhua reporter in the oil rich state said sympathizers besieged the scene of the collapsed Church building on Sunday, adding there was heavy security presence at the Church gate under lock.
The official number of the casualties of the Saturday incident is yet to be announced by the police and security agencies.
A police source told Xinhua that although Governor Udom Emmanuel had escaped unhurt, many people lost their lives while several others sustained various degrees of injuries.
The Chief Medical Director of the University of Uyo Teaching Hospital, Etete Peters, said scores of persons were brought to the hospital dead, adding that the hospital had never prepared for such an emergency.
"Many victims are in private hospitals and mortuaries scattered all over Uyo metropolis. We can't really tell how many people have died so far. We do not have space as people are still being brought in," he added.
Meanwhile, the state government has declared Sunday, December 11 and Monday, December 12, as days of mourning for the victims of the collapse of the Reigners Bible Church building in Uyo.
All flags are to be flown half mast within the state during the days of mourning.
The governor has ordered the immediate arrest of the contractor that handled the construction of the collapsed church building.