Trump talks with Finnish president on telephone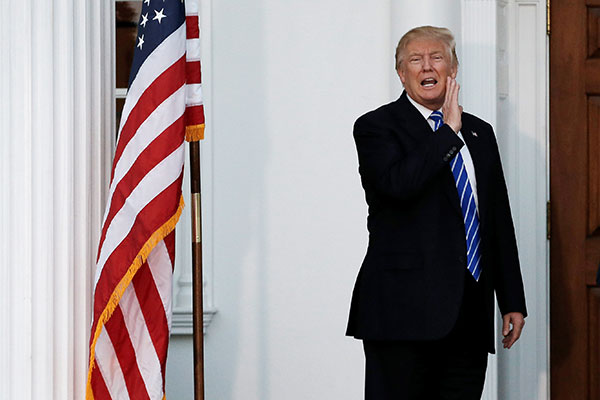 US President-elect Donald Trump yells to members of the media from the steps of the main clubhouse at Trump National Golf Club in Bedminster, New Jersey, US, November 19, 2016. [Photo/Agencies]
HELSINKI - Finnish President Sauli Niinisto and US President-elect Donald Trump talked on the telephone on Thursday. According to a press release of the Finnish presidential office, topics of discussion included the relations between Finland and the United States, Russia and the Arctic Council.
Finland will take over the presidency of the Arctic Council in spring 2017. The United States is the current rotating president.
Trump and Niinisto also discussed the upcoming centenary of Finland's independence in 2017. Trump asked Niinisto to extend his greeting to Finland, saying that "the Finns are great people".
Finnish daily Helsingin Sanomat headlined the telephone talk, and said it took place "at last." The conversation had been awaited in Finland as the other Nordic countries got respective calls earlier.
Trump telephoned Swedish and Danish prime ministers in late November. Trump telephoned the Norwegian side in early December.
Niinisto said in advance last week that he was planning to present the Arctic Council to Trump as a forum for easing tensions.
The Arctic Council comprises the United States, Russia, Canada,Iceland, Norway, Denmark, Sweden and Finland.