UN chief appoints Chinese general as force commander of UN mission in Western Sahara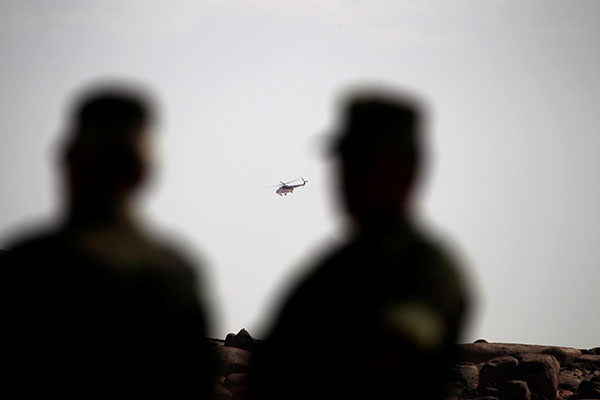 A helicopter belonging to the Minurso (UN mission in Western Sahara) flies over the Polisario second sector forward base on the outskirts of Tifariti, Western Sahara, September 9, 2016. [Photo/Agencies]
UNITED NATIONS - UN Secretary-General Ban Ki-moon on Thursday appointed Major General Wang Xiaojun of China as the force commander of the United Nations Mission for the Referendum in Western Sahara (MINURSO).
"Major General Wang will succeed Major General Muhammad Tayyab Azam of Pakistan, whose tour of duty ended on Nov 7, 2016," UN Deputy Spokesperson Farhan Haq told a daily briefing here.
MINURSO was established in 1991 by the UN Security Council in a bid to seek settlement in Western Sahara, whose territory has been contested by Morocco, Mauritania and the Frente Polisario, supported by Algeria, since colonial power Spain's withdrawal in 1976.
Haq said Wang "brings to this position 40 years of national and international military experience, having served as Defence Attache at the Embassies of the People's Republic of China to Brazil, India, Sweden, and the United States of America from 2006 until 2016."
"He also has served as a United Nations Sector Commander in MINURSO from 2003 to 2004, and was a United Nations Military Observer in Kuwait from 1992 to 1993," Haq added.
Wang has a Master's degree in Military Administration from the Military Science Institution of the People's Liberation Army, and a Bachelor's degree in Signals Technology and Command from the Nanjing Army Command College, China.
Born in 1959, Wang is married and has two children.