Nearly 100 killed, hundreds hurt as quake strikes Indonesia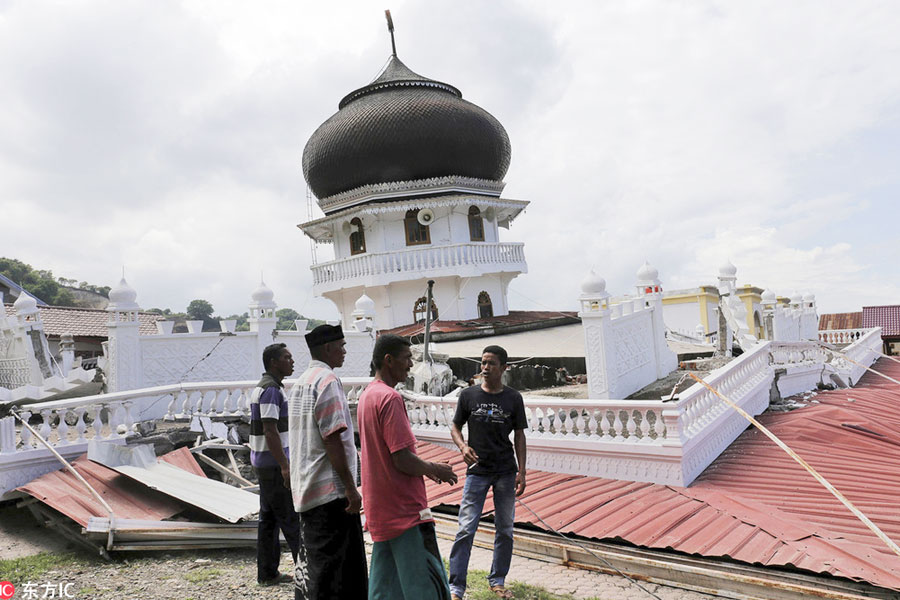 Men inspect a collapsed mosque after an earthquake in Pidie Jaya, Aceh province, Indonesia, Dec 7, 2016. [Photo/IC]
PIDIE JAYA, Indonesia - Nearly 100 people were killed and hundreds injured in Indonesia on Wednesday when a strong earthquake hit its Aceh province and rescuers used earth movers and bare hands to search for survivors in scores of toppled buildings.
Medical volunteers rushed in fading evening light to get people to hospitals, which were straining to cope with the influx of injured.
The Aceh provincial government said in a statement 93 people had died and more than 500 were injured, many seriously.
Sutopo Nugroho of Indonesia's national disaster management agency, said a state of emergency had been declared in Aceh, which sits on the northern tip of Sumatra island.
"We are now focusing on searching for victims and possible survivors," said Nugroho. His agency put the death toll at 94.
Aceh was devastated by a massive earthquake and tsunami centred on its western coast near the provincial capital, Banda Aceh, on Dec. 26, 2004. That tsunami killed 226,000 people along Indian Ocean shorelines.