China, Denmark eye larger cooperation on hearing care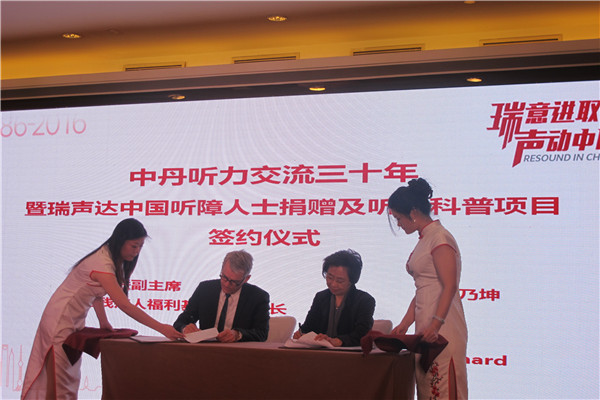 Anders Hedegaard, CEO of GN ReSound, signs a new donation deal with Wang Naikun, the executive vice-president of China Disabled Persons' Federation during the China-Denmark forum on hearing care in Beijing on Dec 6, 2016. [Photo by Wang Mengzhen/chinadaily.com.cn]
Only 7 percent of Chinese people with hearing problems wear hearing aids, while the number in developed countries is as high as 30 percent, according to the latest research data published by China Disabled Persons' Federation (CDPF).
This was revealed during a China-Denmark forum on hearing care held in Beijing on Tuesday, aiming to enlarge bilateral collaboration in hearing aids industry.
Addressing the forum, Denmark's ambassador to China A. Carsten Damsgaard pointed out that during his first year as an ambassador to China, he has been impressed by China's commitment to expand its universal health care and putting people first in its health care reform.
"The Danish welfare model places high importance on creating equal opportunities for even the most vulnerable groups in our society to be able to live an active, productive and meaningful life with dignity. In that respect, we share the same ambition," said Damsgaard.
The event was hosted by GN ReSound which is celebrating its 30th year in Chinese market. In the year of 1986, the Danish hearing aids provider established its first manufacturing branch in Southeast China's Xiamen City.
Alongside the forum, GN ReSound has extended its deal with China Disabled Persons' Federation, a national umbrella organization for persons with diverse disabilities. The new deal will allow GN group to continue its donation to CDPF, worth 10 million yuan ($1.45 million).
"In the past decade, our organization (CDPF) has received donations of hearing aids from GN ReSound worth more than 35 million yuan ($5.1 million), supporting over 10,000 Chinese with hearing impairment," said Wang Naikun, the executive vice-president of CDPF.
The latest data from the World Health Organization estimates that 5.3 percent of the world's population, or around 360 million people, have hearing disability.
The most recent figures for China put its national corresponding figure at 27.8 million.