Welcome aboard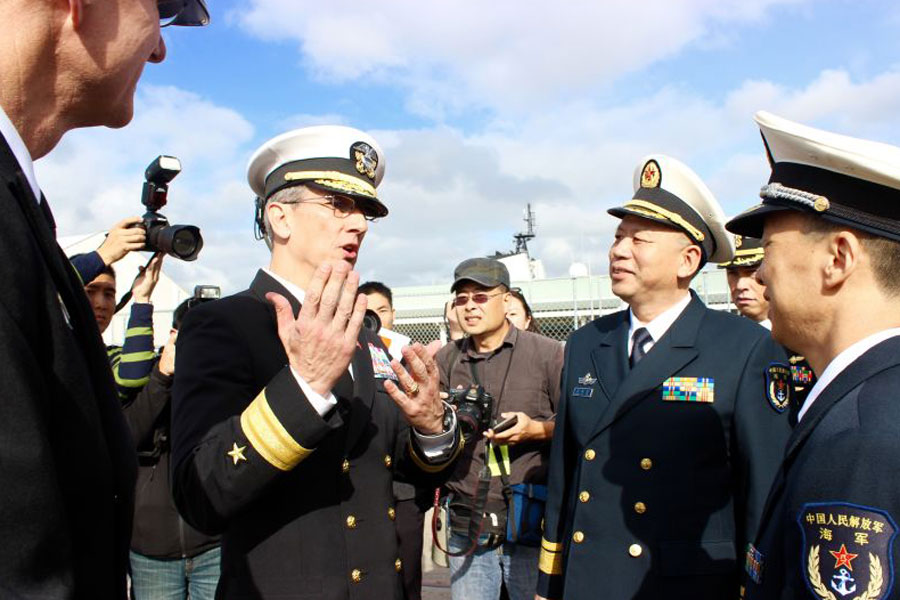 US Navy Rear Admiral James Bynum (second from left), Carrier Strike Group 9 commander, welcomes Chinese People's Liberation Army (PLA) Rear Admiral Huang Xinjian on Tuesday at the port of San Diego, where three PLA ships led by Huang Xinjian and Rear Admiral Wu Haihua arrived for a 4-day visit. HEZI JIANG/CHINA DAILY
The Chinese People's Liberation Army (PLA) Navy Task Group 546, composed of guided missile frigates Yancheng and Daqing and replenishment ship Taihu, arrived at San Diego on Tuesday morning.
Chinese officers and sailors were welcomed by their counterparts from USS Cape St. George with band and music.
The sailors are going to compete in basketball, soccer and Ping Pong games, tour the vessels, and participate in a joint exercise at sea,
"Through each of these we hope to build mutual understanding and patterns of professional interaction and improve cooperation to the benefit of our two navies," said Rear Admiral James Bynum, commander of Carrier Strike Group 9.
"It will also lay a solid foundation for maintaining peace and stability of the region and the world as a whole," said PLA Rear Admiral Huang Xinjian.