Cuba preparing for national tribute to Fidel Castro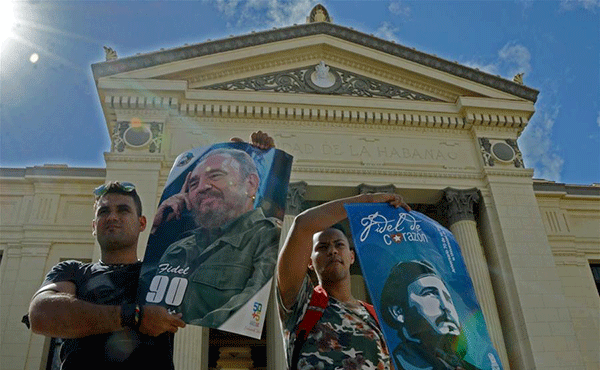 Students from the University of Havana gather outside their school to pay tribute to the leader of the Cuban Revolution, Fidel Castro, in Havana, Cuba, Nov 26, 2016. Aged 90, Castro passed away late Friday night. [Photo/Xinhua]
HAVANA - Cuban were working on Sunday to prepare for a national tribute to their revolutionary leader, Fidel Castro, who died late Friday at the age of 90.
The tribute will take place on Monday from 9 am local time until 10 pm, at the Jose Marti Memorial in Revolution Square in Havana, local officials told reporters. The ceremony will begin with the firing of a 21-gun salute, according to a government statement.
The Jose Marti Memorial, which will temporarily welcome Castro's remains, is at the highest point of Havana. It stands on Revolution Square, long held to be one of Cuba's most emblematic spots.
For decades, it hosted massive demonstrations in support of the Revolution and Castro gave many of his most important speeches there.
On Tuesday, the square will also host a public mass at 7 pm for Cubans to pay their respects.
Following that, the ashes will begin a trip of around 1,000 kilometers from Havana to Santiago de Cuba. This journey will be the reverse of the one Castro carried out, as a young guerrilla leader, in his Caravan of Liberty in 1959.
After nine days of national mourning, the ashes of the revolutionary leader will be laid to rest on Dec. 4 in the Santa Ifigenia cemetery after another mass in the Antonio Maceo Square in Santiago de Cuba.
Besides preparations for the official commemoration, across the nation, hundreds of thousands of people turned out during the weekend waving flags and chanting slogans in Castro's honour.
Sports and cultural activities will be suspended for the period of mourning, while flags will remain at half-mast. Newspapers were printed in black ink in memory of the man, who led the country for decades.