London's aristocratic season welcomes Chinese 'debs'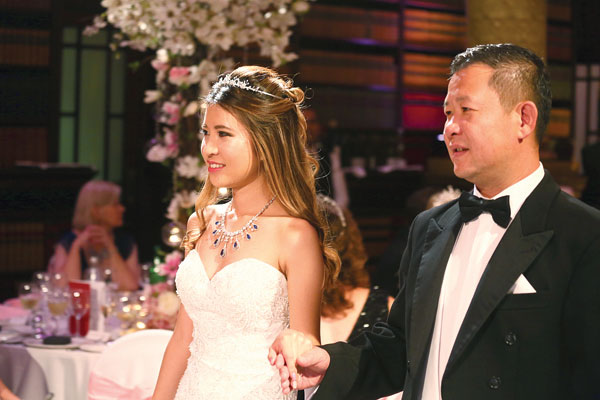 Ding Lizhi, a Chinese debutante, accompanied by her father, makes her way to the Queen Charlotte's Ball at the Royal Horseguards Hotel in London in September. [Photo/China Daily]
Queen Charlotte's Ball is the highlight of what for more than two centuries has been known as the London Season, an annual cornucopia of high fashion and etiquette once restricted to English aristocrats back from hunting on their country estates.
In these more egalitarian times, the yearly ball exerts a wider appeal among the international rich and famous, and this year boasted not just one but three prominent Chinese participants.
"It was a once in a lifetime experience," said Ding Lizhi, daughter of Ding Shuibo, who founded Chinese sportswear brand Xtep. "We all dressed up like princesses with beautiful white gowns and tiaras to celebrate this amazing night with friends and family."
The others from the Chinese elite who shared the limelight with her were Sabrina Ho, daughter of Macao business magnate Stanley Ho, and Ye Wanqing, also the daughter of a successful Chinese businessman.
Debutante balls were once seen as part of a uniquely British tradition, dating back to the days of King George III. Named after his wife, Queen Charlotte's Ball became as occasion for young ladies from upper class or aristocratic families, who had come of age, to be presented to the monarch to mark their formal entry into high society.
It was a tradition that began in 1780 and lasted in its pure form until 1958.
Even though the emphasis upon home-grown aristocracy has changed since then, it is still the only event of its type with such regal origins, according to Jennie Hallam-Peel, a former deb and the chairwoman of the annual program of events that comprise the London Season.
She said it is also the only such event today with charity as its focus. This year's ball was in aid of SOS Children.
Many wealthy Chinese families are attracted to the ball because of its exclusivity and the kudos it bestows upon the debutantes, according to Luo Ziwei, executive director at the London Season Selection Committee.
"The selection of these Chinese debutantes was not just because of the size of the fortune they possess, but also the contribution that the family has made to society," Luo said.
Any girl aged between 16 and 20 who is interested in becoming a debutante is able to apply by email for an interview. The competition is very intense and the girls selected must have exceptional CVs and come from families that are invariably high achievers.
Debs must attend a pre-ball etiquette course to learn the correct forms of address, and be able to walk properly and master formal table manners.
They must also be adept at aristocratic protocol.
The experience this year included visits to the stately homes of the Duke of Somerset and Princess Olga Romanoff.
Hallem-Peel believes taking part in the London Season and Queen Charlotte's Ball has exceptional benefits in terms of networking, gaining social confidence, social skills and training for life.
To contact the reporter: wangmingjie@mail.chinadailyuk.com