Over 68,500 displaced by military operations in Mosul: UN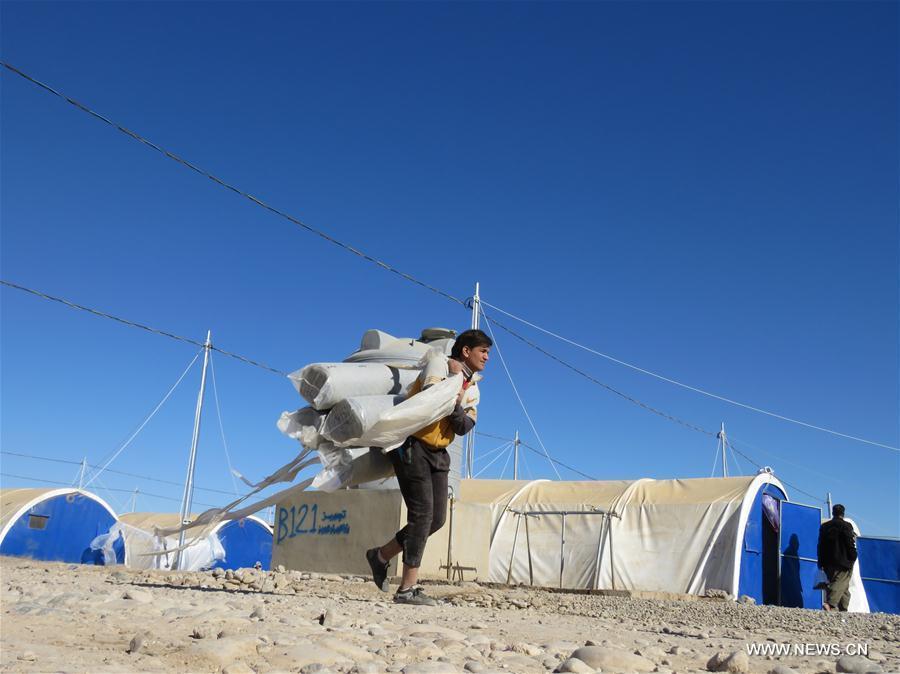 A man carrying blankets walks in the Khazir Camp for Internal Displaced Person, about 30 km east of Mosul in northern Iraq, on Nov 21, 2016. [Photo/Xinhua]
UNITED NATIONS - The UN Office for the Coordination of Humanitarian Affairs (OCHA) reported that as of Sunday, the United Nations has registered more than 68,500 people as displaced by the military operations to retake the Iraqi city of Mosul, UN spokesman Stephane Dujarric told reporters here Monday.
This is a jump from nearly 60,000 people just three days earlier, Dujarric said at a daily news briefing here.
"A health assessment carried out in Zelikan Camp, northeast of Mosul, showed the urgent and widespread need for psychosocial assistance among displaced families, with nearly three-quarters of those interviewed expressing a strong level of distress," Dujarric said.
On Nov 14-20, psychosocial support has been provided to more than 1,000 women and more than 160 men affected by the Mosul conflict, he said.
Nearly 1,200 boys and nearly 1,100 girls received psychological first aid in child-friendly spaces, the spokesman added.
Humanitarian partners are also seeking funding for the 2016 Iraq Humanitarian Response Plan, which was launched in January. The plan requests 861 million US dollars to support 7.3 million vulnerable Iraqis across the country.
To date, 69 percent of this requirement has been received, Haq said.
On Oct 17, Iraqi Prime Minister Haider al-Abadi, who is also the commander-in-chief of the Iraqi forces, announced the start of a major offensive to retake Mosul, the country's second largest city, in a bid to liberate the northern Iraqi city, the last major Islamic State (IS) stronghold in Iraq.
Mosul, some 400 km north of the Iraqi capital of Baghdad, has been under IS control since June 2014, when Iraqi government forces abandoned their weapons and fled, enabling IS militants to take control of parts of Iraq's northern and western regions.