UN official seeks more global help for Africa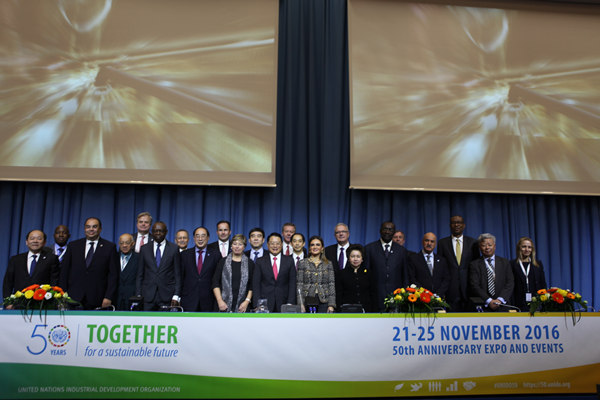 Li Yong, director general of the Vienna-based United Nations Industrial Development Organization (UNIDO) joins the special guests from member states and the international community marking the 50th anniversary of UNIDO at its headquarters on Monday. [FU JING/CHINA DAILY]
Africa needs help not only from China but also from the United States, Japan and the rest of the international community to reduce poverty and help its economies, a senior UN official said on Monday.
"To achieve industrialization in Africa, China is the one to play a vital role, but the help from other countries and the rest of the international community is also urgently needed," said Li Yong, director general of the Vienna-based United Nations Industrial Development Organization(UNIDO) said on Monday.
Li made the comment on the sidelines of the weeklong celebration of the 50th anniversary of UNIDO at its headquarters. Africa's industrialization was highlighted on Monday's agenda.
For decades, China has been benefiting from UNIDO's knowledge transfers and experience in modernization and industrialization. Now as China's presence in Africa and other developing countries is on the rise, Li has said that his agency is welcoming China's active participation and looks forward to more cooperation between China and UNIDO in African development.
Li said his agency is also now actively engaging Japan and other member states to help Africa achieve the 2030 targets listed in the United Nations Sustainable Development Goals.
Li said the targets of "leave no one behind" in terms of achieving shared prosperity in the world are so challenging that another 50 years are not even enough.
"We are ready to open the door to all the members (of the United Nations)," said Li, who is among a handful of Chinese nationals serving in high positions in international institutions since 2013.
Responding to China Daily, Li said that his agency, now with more than 170 member countries, will be open to the United States, which dropped its membership within Li's agency 20 years ago due to arrears. The US was among the top contributors to UNIDO before leaving.
Despite that, Li said that the American private sector has been actively engaged with his agency.
But he said it is for the American side to answer whether the Donald Trump administration will rejoin the UN agency or not.
"I am not clear how the president-elect thinks about this, and it is better for the American mission here (in Vienna) to answer," Li said.
Justin Lin, former chief economist of the World Bank and now a professor at Peking University, said that he is a big believer that industrialization will help Africa's development, and it is time for the international community to take urgent action.
"We have said many, many times about the African development, and it is now time to take action," said Lin, urging UNIDO to work as a platform between China and Africa. "I am a team member (pushing) forward these actions."
Starting from his position as World Bank chief economist from 2008-2012, Lin has been helping African countries design road maps for industrialization and economic development.
Lin said that China's shift of industrial capacity and capital could match up with Africa's cheap labor and other advantages.
"More importantly, China's fresh experiences in the previous decades could offer references," he said.
Jin Liqun, president of the Asian Infrastructure Investment Bank (AIIB), has also indicated his commitment to work with Li's agency to deliver the 2030 UN sustainable development goals.
Since last year, he said some European countries, Canada and other AIIB members have put their trust in the new financial institution, which will be hosting up to 100 members by year-end.
"In today's world, the development paradigm must be a new one," said Jin. "And the to-do list is long and challenging to achieve peace and shared prosperity, and we would like to cooperate with UNIDO and other partners to realize the targets."
Tian Guoli, chairman of the Bank of China, has pledged to work with UNIDO to offer financial support for other countries to realize economic take-off through the bank's worldwide branches.
"We are ready to offer financing help, especially green credit," Tian said at the opening of Monday's plenary meeting. "And we can also work as matchmakers for small and medium-sized companies worldwide to help them spot suitable projects," he said.