Merkel confirms to run for fourth term as German chancellor in 2017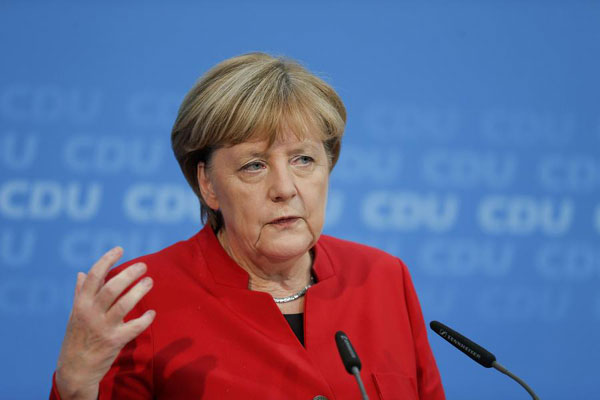 German Chancellor Angela Merkel addresses a news conference, to announce that she will run again for the Chancellorship in the next year general elections, at the Christian Democratic Union Party (CDU) headquarters in Berlin, Germany, November 20, 2016. [Photo/Agencies]
BERLIN - German Chancellor Angela Merkel confirmed at a press conference here on Sunday that she is ready to run for the fourth term in office in 2017 election.
"I've been thinking a lot about it, and the decision on a fourth candidacy is not trivial after 11 years, neither for the country, nor for the party, nor for me," said Merkel.
According to Merkel, she had already declared in a presidium meeting of the Christian Democratic Union (CDU) that she will once again compete for the presidency of the CDU, and therefore also for the chancellor's office.
Meanwhile, Merkel also confirmed that she would run for a full term of four years.
"This election will be one of the most difficult since German reunification, and we will have to deal with claims from right-wing and left-wing," said Merkel.
Merkel also noted she understood it was her task to listen and accept the expectations of the citizens and to implement them in the interest of the public. "We have to work for a good, strong Germany," she added.
The CDU leader will be re-elected on December 6 at its National Party Conference in German city of Essen.
In the past few days, an increasing number of politicians of the Union party, a bloc of CDU and its Bavarian sister party Christian Social Union (CSU), have assumed that Merkel will compete for both offices again. Sigmar Gabriel, chairman of the German Social Democratic Party (SPD), also made it clear that he was expecting this.
Chairman of CSU Horst Seehofer has announced the support of his party to Merkel for her candidacy for chancellorship next year.
"It is good that now is clear," said Seehofer on Sunday in Munich, adding it would now be possible to clarify the topics that will be taken into the election campaign.
Merkel has been CDU chairman since April 2000 and German Chancellor since November 2005. If she wins for the fourth time in 2017, she has the chance to beat the record holder, also her mentor Helmut Kohl, who served 16 years in the office.
An Emnid survey published by German newspaper Bild am Sonntag showed, 55 percent of Germans wants a further mandate of Merkel, while 39 percent would not wish Merkel to remain as chancellor after the election in 2017.
In spite of the refugee crisis last year, Merkel is considered unrivaled in the CDU.