Merkel, Obama promote efforts to reach common trade agreement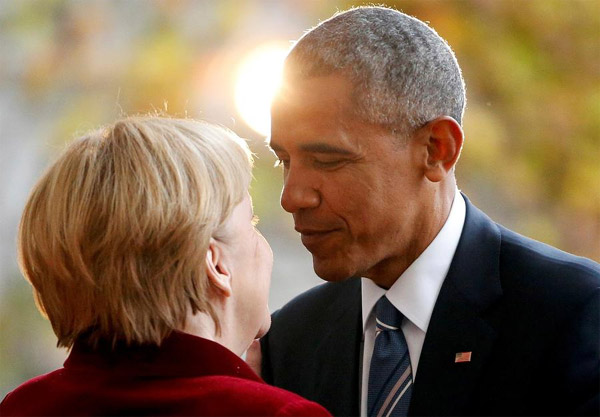 US President Barack Obama is welcomed by German Chancellor Angela Merkel upon his arrival at the chancellery in Berlin, Germany, November 17, 2016. [Photo/Agencies]
BERLIN - German Chancellor Angela Merkel and US President Barack Obama agreed on Thursday the European Union (EU) and the United States must maintain their efforts to reach a common trade agreement.
It was important that the Transatlantic Trade and Investment Partnership (TTIP) negotiations would be maintained, said Obama at a joint press conference with Merkel after their meeting at the chancellery in Berlin.
Merkel emphasized that she had always spoken out for a trade agreement between the EU and the United States, two major trading areas of the world.

The negotiations had made a lot progress, but they could not be "ended now", said Merkel.
"I continue believing that the EU is one of the greatest achievements in the world," said the outgoing US President, while calling on the countries of Europe to strive to maintain the 28-nation bloc. 
People have to cultivate these achievements and fight for them, said Obama, adding that Britain's exit from the EU should be conducted as "smoothly and orderly and transparently" as possible.
Meanwhile, Obama warned his successor, president-elect Donald Trump, of the important principled task in relation to Russia.
"I've sought a constructive relationship with Russia," said Obama, "My hope is that the president-elect coming in takes a similarly constructive approach, finding areas where we can cooperate with Russia where our values and interest align."