Trump names Reince Priebus as chief of staff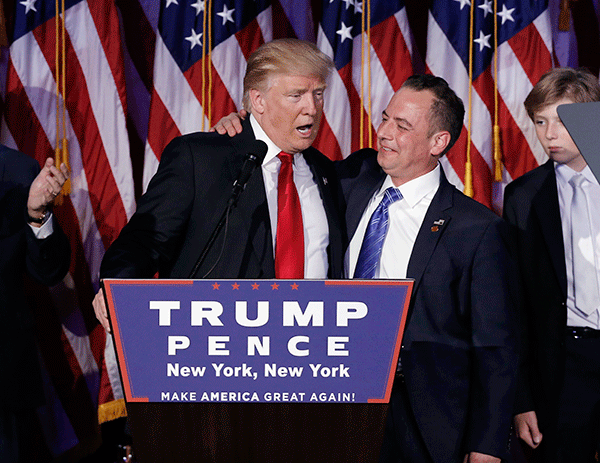 US President-elect Donald Trump and Chairman of the Republican National Committee Reince Priebus (R) address supporters during his election night rally in Manhattan, New York, US on November 9, 2016. [Photo/Agencies]
WASHINGTON - US President-elect Donald Trump has named Republican National Committee (RNC) chairman Reince Priebus as his chief of staff, according to an official statement released Sunday.
Trump's campaign manager Stephen Bannon will serve as his chief strategist and senior counselor, the statement said.
"I am thrilled to have my very successful team continue with me in leading our country," Trump said in the statement.
Both Priebus and Bannon expressed their gratitude and eagerness to help Trump "achieve his agenda."
The appointment was the first important government personnel arrangement Trump has made since his election on Wednesday. He has previously named his running mate Mike Pence to chair his transition team.
Priebus, 44, is a Wisconsin native who became the RNC chairman in 2011. he is said to have good relationships with both Trump and House Speaker Paul Ryan, a quality that is seen crucial to mend any possible differences between the White House and the Congress.
Bannon, 62, is a media executive who became Trump's campaign manager in August. He is also the chief of Breitbart News, a right-leaning US news outlet that supported Trump during the presidential elections.
Trump is due to ascend to presidency on Jan 20.