TCL Corp took global strategy to heart early
Business model was 'just a concept' in the beginning, but financial crisis showed necessity of taking operations overseas
While many companies think about going global only when they are strong domestically, Chinese electronics giant TCL Corp has cultivated its international DNA since it was very young.
Established in 1981, TCL sells to more than 160 countries. Of its 104.6 billion yuan ($15billion; 14.4 billion euros; 12.3 billion) revenue in 2015, about 46 percent came from overseas markets.
"In two or three years, I aim to make the proportion exceed 50 percent," says Li Dongsheng, chairman of TCL, in an interview in Beijing during the 2016 China Entrepreneur Summit in December.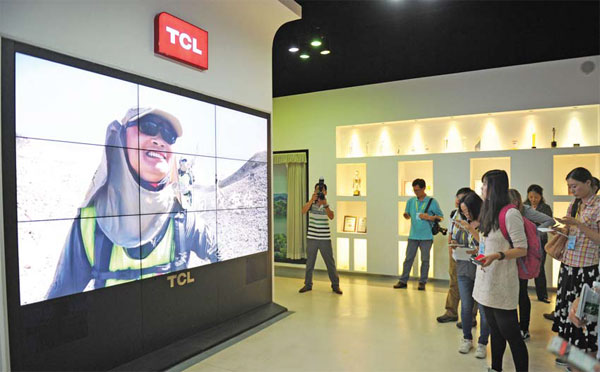 Visitors experience the new products at TCL's headquarter in Huizhou, Guangdong province. Mai Tian / For China Daily
Headquartered in Huizhou, Guangdong province, TCL started cultivating its global landscape in 1999 - and that has much to do with Li's early experiences and awareness of globalization.
Having graduated from South China University of Technology in 1982 with a degree in radio wireless technology, Li started working for the TTK home appliance company, the predecessor of TCL. Later he worked for three years for the Huizhou government, focusing on bringing in foreign investment. He returned to TCL in 1993.
Li says that at that time China had begun to reform and open up, and Guangdong province was at the forefront, having taken big steps by bringing in many foreign companies. Li was able to participate in the creation of more than 10 large joint ventures.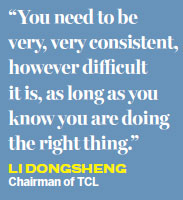 "While establishing joint ventures, I got many chances to visit foreign companies, such as Philips and Siemens, and was greatly impressed by the technology and management. I also realized that successful companies not only have success in their home countries but are usually global," he says. "I then realized that if we wanted sustainable development of our business, we needed to be global."
TCL's globalization process started in late 1990s. At that time, the company still focused on processing materials supplied by foreign business people and for foreign brands. However, when the financial crisis in Southeast Asia occurred around 1997, TCL's exports were severely affected.
"For me globalization was just a concept, bringing in the experiences of overseas companies and learning from them. Good companies all have global business," he says. "But when the financial crisis came, we realized we could not achieve globalization if we relied on processing materials supplied by the foreign business people, so we decided to go overseas ourselves."
TCL started by manufacturing recording tapes. It then expanded its business on a big scale, manufacturing telephones, TVs, mobile phones, refrigerators, washing machines, air-conditioners, home appliances and LCD panels. The company now has 82,000 employees, 23 research and development centers and 21 manufacturing bases worldwide.
But the globalization process is never easy.
The company made headlines when it acquired the TV business of French electronics firm Thomson SA for 230 million euros ($255 million; 196 million) in January 2004. Seven months later, it stunned the telecommunications industry by gobbling up Paris-based Alcatel Mobile Phone.
However, the ambitious Chinese acquirer soon suffered indigestion. TCL ran up gigantic losses of about 2.7 billion yuan in 2005, the first time it had slipped into the red since its inception in 1981. Its overseas business did not stop sliding until 2009.
Li admits that was a very difficult time, but when he recalls it he says: "You need to be very, very consistent, however difficult it is, as long as you know you are doing the right thing."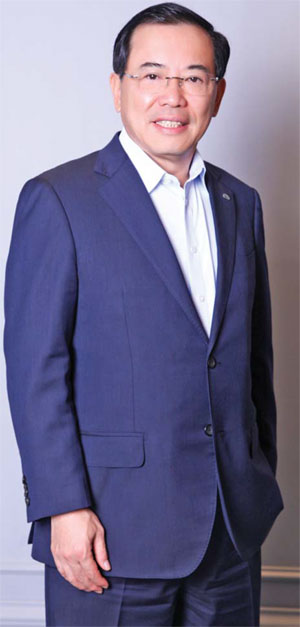 Li dongsheng, chairman of TCL. Provided to China Daily
Li says that mergers and acquisitions represent a quick way for Chinese companies to go global, because it is a way of quickly acquiring the other companies' market share and expertise in products and technology.
"But it poses great challenges for the management of companies, because you need to integrate your own company with a new organization and a new team. If the integration doesn't go well, costs will increase, and competitiveness will be weakened," he says.
The question is whether it is better for companies to grow via mergers and acquisitions or to expand markets by themselves, based on the industry's situation, the market environment and overall ability.
Li says that in the early stages, TCL's relatively cheaper prices and good quality attracted overseas consumers, but it has been spending more energy on technological innovation and brand-building to strengthen its push for globalization.
"Chinese brands and products have gradually got rid of the image of being low-priced and low-quality," he says. "TCL now covers a wide range of goods, with various products all under the brand of TCL that can be expensive, affordable or cheap, depending on the requirements of consumers worldwide."
Li says that with the increasing competitiveness of China's manufacturing, he believes that Chinese companies will play more important roles in the world economy.
"In certain industry sectors, Chinese companies now perform better than traditional Western brands. In the electronics industry, Chinese companies are the main manufactures of TVs, mobile phones and many household electrical appliances. This is a huge achievement," he says.
As for different countries and markets, he says the business models should all be different. But one rule is the same: There must be different strategies; different business models based on the specific situation in different markets; and different products and services based on different consumers' demands in different countries.
"Moreover, you need set up business systems that fit operation in a specific country with respect to its economic environment and regulations. Then you will be able to be efficient and competitive," he says.
For example, in the Indian market, the average size of a TV set is smaller than 32 inches. In Africa, what sells best are TV sets between 28 inches and 24 inches. For smartphones, in some countries, there is good mobile network infrastructure to support use, but in others there is no 4G internet, he says, so different products should be made to fit in with the local markets.
Moreover, he added, when going global, it is important for Chinese companies to shoulder certain social responsibilities.
"It is not right to just sell your products to another country and then leave. You need to transfer your industrial abilities, technology and service expertise. While building your own business, you need to contribute to the the local economy. Bear this in mind and your globalization will see sustainable development," he says.
Li says China's Belt and Road Initiative will also be helpful for TCL's globalization, noting that in the past it took 35 to 40 days to transport products from the Guangdong manufacturing center to Poland, where its center for European markets is situated. But this year, with the opening of the China Railway Express, TCL's products were sent by train from Chengdu, Sichuan province, to Poland in about 10 days.
"For us, turnover efficiency is much higher and the duration of the journey has been reduced by about 25 days, which means a lot in the fast-changing electronics industry. Moreover, the cost of transport by train is cheaper than by sea, which is very helpful for us in developing European markets."
Li says the Belt and Road Initiative will help connect many countries and regions, and TCL is considering expanding along the routes to places such as East Asia and Russia.
Meanwhile, the Maritime Silk Road will also help TCL develop markets in South Asia and Europe, he says.
chenyingqun@chinadaily.com.cn
(China Daily Africa Weekly 12/30/2016 page28)