Slew of transportation upgrades set for Tibet
More than 20 new highways will be built in the Tibet autonomous region next year, with a total investment of more than 33 billion yuan ($4.8 billion; 4.5 billion euros; 3.9 billion), according to a senior transportation official.
Included in the plans are new routes from Lhasa to Nakqu; Dege to Qamdo; Qamdo to Jaka; Lhasa to Xigaze Airport; and Gongkar Airport to Tsethang as well as the Nyima-Aso section of National Highway 317.
Ge Yutao, head of the regional transportation authority, says more than 54 billion yuan in state funds and loans were spent on Tibet's transport infrastructure this year.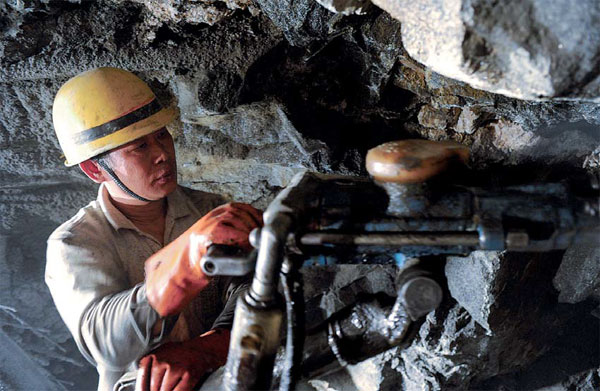 A worker drills a tunnel for the Lhasa-Nyingchi section of the Sichuan-Tibet Railway in March. The section is expected to be finished by 2020. Cao Ning / Xinhua
"The total length of roads has reached 82,000 kilometers, and it's expected to reach 89,000 km next year," he said recently during the ninth regional Party Congress. "Next year, we will finish constructing 864 km of highways and 5,500 km of rural roads, and will reconstruct 4,310 km of national and provincial trunk highways."
The authority said the region aims to spend 15 billion yuan from state sources and 40 billion yuan from bank loans next year on improving Tibet's transportation network.
Wu Yingjie, the region's Party chief, highlighted planned improvements to roads, railways and aviation networks over the next five years in a work report to the Congress on Nov 15.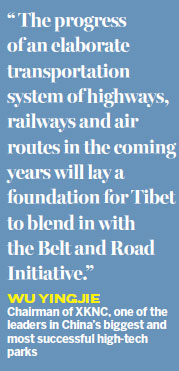 Tibet will speed up construction of its second "Sky Road" - the Sichuan-Tibet Railway - during the 13th Five-Year Plan (2016-20) period, according to the work report. Stretching 1,838 kilometers, the railway will run from Chengdu, Sichuan province, to Lhasa, Tibet. It follows on the heels of the Qinghai-Tibet Railway, which went into full service in 2006.
Construction of the new line's first section, from Chengdu to Ya'an, began in 2014, while construction of the second section, from Lhasa to Nyingchi, began in 2014.
"The section inside Tibet is expected to be finished by 2020," Wu says, adding that preliminary work on the Yunnan-Tibet Railway and flights between Ngari and Purung, in the region's Ngari prefecture, will get underway in the next five years.
Tibet has plans to build airports in densely populated and developed cities and prefectures, according to the work report.
"The progress of an elaborate transportation system of highways, railways and air routes in the coming years will lay a foundation for Tibet to blend in with the Belt and Road Initiative," Wu says, referring to China's plan to improve global connectivity.
The report notes that Tibet has witnessed rapid development in transportation construction in the past five years, with the total length of its highways increasing by 33 percent. In that time, the 300 km Lhasa-Nyingchi Highway was completed, the Qinghai-Tibet Railway was expanded and the Lhasa-Xigaze Railway began full operations.
Xu Ance, an engineer at Qinghai-Tibet Railway Co, says the line has led to a boom in the region's social and economic development.
"Over the past 10 years, the number of tourists visiting Tibet has increased every year, while our passenger and cargo flow has grown annually, too," Xu says, adding that the line has made transporting basic goods, coal, cement and construction materials much more convenient.
Contact the writers through palden_nyima@chinadaily.com.cn
(China Daily Africa Weekly 11/25/2016 page14)