Magic of flowers allows people to celebrate their lives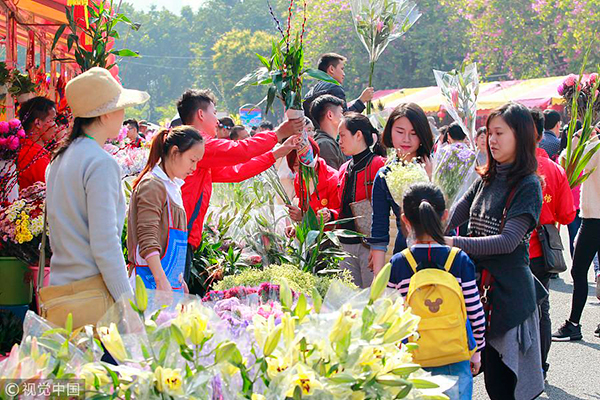 Guangzhou residents buy flowers at a flower market during Spring Festival, which is a local tradition.[Photo/VCG]
Guangzhou, the capital of Guangdong province, is known as the "city of flowers".
Located in a subtropical zone, the city has long summers and warm winters, with evergreen lush trees and grass, and flowers in all seasons.
The Guangzhou people have a long history of planting flowers, appreciating flowers and sending flowers as gifts.
One particular occasion falls every year during the Spring Festival at the city's famous spring-greeting flower markets.
While people in North China stay inside with their families, Guangzhou's streets are packed with crowds of people and bundles of flowers.
People flock to the flower markets with their families or friends, to admire and buy flowers. The markets become a paradise for everybody, from little children to the elderly.
The act of appreciating the flowers together becomes a symbol of family reunions and serves to inspire both hope and commitment for their wellbeing in the new year.
Moving along with the crowds in the streets, the endless array of beautiful flowers and the boisterous carols of the Chinese New Year create a cheerful atmosphere.
During the New Year, a parade in the flower street is organized, which becomes a carnival for all the local residents.