Kyrie taking command as Boston's go-to triggerman
BOSTON - It's quickly becoming apparent that Kyrie Irving has become the Boston Celtics' go-to guy when they need some scoring.
The star guard put up 36 points as Boston held off the weary and shorthanded Philadelphia 76ers 108-97 on Thursday night to improve the NBA's best record to 19-4.
It was Irving's fifth game this season with 30 or more points.
Al Horford added 21 points and eight rebounds, and Marcus Morris had 17 points as the Celtics bounced back from Monday night's home loss to Detroit with their ninth victory in 11 games.
"It's go time, man," Irving said of his mindset in the fourth quarter.
"Especially when the game is in the balance. It's the best time to play. It's just ultimate freedom."
Boston led by five at the end of the third quarter but started the fourth by connecting on seven of its first 11 shots to increase the margin to 95-82.
Irving had nine points in the final 12 minutes.
"It's a luxury. Not a lot of teams have that," Horford said of Irving's ability to take over games. "His will to win and make those shots when we need them most just keeps impressing me game by game."
Dario Saric led Philadelphia with 18 points while JJ Redick finished with 17 and Ben Simmons had 15.
"Kyrie is obviously amazing," Redick said. "And Horford doesn't get enough credit for how good he is offensively. As good as Kyrie is, Horford is the hub of everything they do."
It was the third game in four nights for the 76ers, who have lost two of three. Saturday's game against Detroit will conclude a week featuring matchups with the East's three top teams.
Philadelphia played without center Joel Embiid, who continues to rest on the second night of back-to-backs.
With Embiid out, Celtics coach Brad Stevens went with a bigger lineup, starting Aron Baynes in place of Morris.
Philadelphia was able to keep the game tight by knocking down 16 3-pointers.
The Celtics ended the second quarter on an 11-3 run and took a 54-44 lead into halftime. Boston shot 48 percent from the field and was 7 of 16 from beyond the 3-point line.
Philadelphia erased a 12-point deficit and took a 67-65 lead in the third quarter, but Boston got hot again, ending that period on an 11-4 run that included six points by Morris.
The Sixers have already played some of the league's top teams just 21 games into the season. Thursday was their second meeting with the Celtics, and they've also faced Golden State and Houston twice, and Cleveland.
But coach Brett Brown is thankful for the tough road they've plodded thus far.
"We're playing NBA royalty right now," Brown said.
"We're playing against the league's best. The analytics people tell us we've had the most difficult schedule to date, and it feels like that.
"But I think it expedites learning. You're always learning from All-Stars."
Associated Press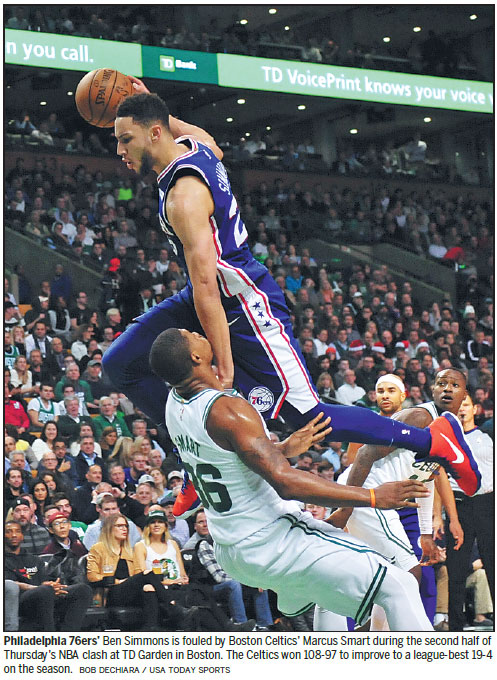 (China Daily 12/02/2017 page12)