No worry for Curry in giving Lakers grief
Steph rebounds from slow start to shine in OT
LOS ANGELES - Stephen Curry was having an off night. By the time the fourth quarter ended, he had drained only six of 17 shots - and three of those misses were air balls.
But no worries.
When the game went into overtime, the two-time MVP once again showed what makes him the NBA's best shooter.
Curry hit two 3-pointers to open the extra period as the Warriors outlasted the Los Angeles Lakers 127-123 on Wednesday.
"Obviously, he had a horrible start, but what makes Steph Steph is that on a night like tonight he can still make huge plays," Warriors coach Steve Kerr said.
"It takes a special player to bounce back within the same game and be able to reverse that, and that's what he did." Curry scored 28 points, 13 in overtime. Kevin Durant led the Warriors with 29 points and Klay Thompson added 20 as Golden State avoided losing consecutive games for the first time this season.
The Lakers got a career-high 32 points from Brandon Ingram to push the defending champs into OT. He and Durant dueled back-andforth all night.
It was the first meeting of the season between the division foes, also making it the first matchup between Curry and Lakers rookie point guard Lonzo Ball.
Ball finished with 15 points and a game-high 10 assists. Kentavious Caldwell-Pope and Jordan Clarkson added 21 points each for the Lakers, with Julius Randle scoring 20.
"I love the way our guys competed defensively," Los Angeles coach Luke Walton said.
"We set a challenge for them - let's be aggressive but smart. The Warriors are struggling with turnovers so far this year, so we wanted to use that to our advantage."
Golden State turned the ball over 22 times.
"Tonight was absolutely galling," Kerr said. "There were some mind-boggling plays out there, and I don't know what to tell you. We've got to be able to take better care of the ball."
It helps when you have Curry, who despite struggling almost all night, can quickly step up when needed.
"It comes from experience and knowing how to deal with bad shooting nights, and stick with it," he said. "Obviously it happened. You just have to ride it out."
Kerr said he's not currently concerned about the team's occasionally passive play.
"I think going to the Finals three years in a row and then trying to do it again a fourth time, you're just naturally not going to have quite as much of that killer instinct.
"It's just human nature. I know it's in there, so I'm not worried. It's still November."
Associated Press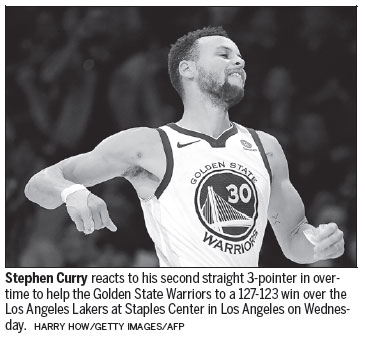 (China Daily 12/01/2017 page23)