Boll: China still setting the bar
But Germany's world No 4 says gap is closing at top of rankings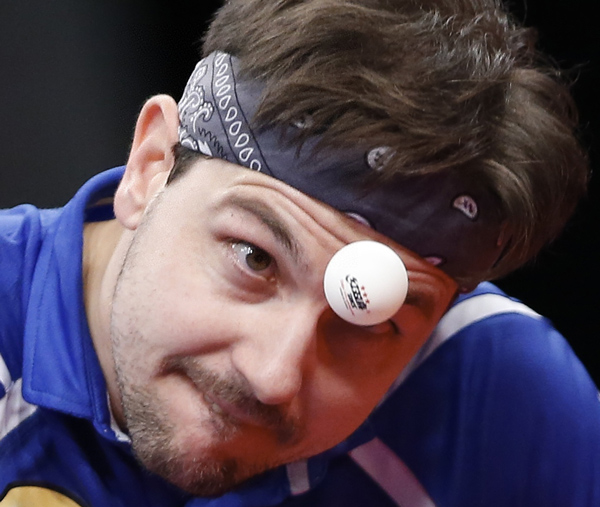 Germany's Timo Boll serves to Ma Long of China during their World Cup semifinal match in Liege, Belgium last month. Boll beat world No 1 Ma 4-3 to help deny China a record eighth straight men's title at the tournament but lost in the final to teammate Dimitrij Ovtcharov.Ye Pingfan / Xinhua
BERLIN - China still rules the table tennis world despite recent setbacks, according to renowned German paddler Timo Boll.
An all-German final between Boll and eventual winner Dimitrij Ovtcharov at last month's World Cup in Liege, Belgium, led some to wonder if a changing of the guard was taking place in the sport.
Boll defeated world No 1 Ma Long in the semifinals, with he and fellow Chinese stars Fan Zhendong and Lin Gaoyuan apparently struggling with the sport's new ball, which offers less spin.
But Boll was keen to keep Germany's charge in perspective.
"We managed to close the gap a little bit, but the Chinese still rule table tennis," the world No 4 told Xinhua.
"When it comes to technique, athleticism and speed they are the best.
"I would not speak about a change of guard. To say that is far too much. And don't forget, Dimitrij and I have to invest a lot trying to keep our current high level. By beating some of the Chinese we had reached the ultimate level."

Boll said the new type of ball being used in international competition suits his game.
"The new ball is allowing less spin, which makes it easier to return. I would describe the new ball as less dangerous. You just have better control over the ball and the game."
However, he still pegs China as the favorite to win February's Team World Cup in London.
"They will come up with something special for the World Cup and get back to an intense training effort. But clearly the Japanese and us are the biggest opponents for China.
"We are happy to be within reach of the leading Chinese players. Table tennis competitions around the world are getting tighter now, and we see more surprising results than before."
Boll's thrilling 4-3 victory over reigning world and Olympic champion Ma was one of the highlights of the World Cup in Belgium.
And while Boll still rates Ma, 29, as the man to beat, he believes he could soon be overtaken by 20-year-old compatriot and world No 2 Fan Zhendong.
"Ma Long has been the strongest player over the last three to four years. He is hard to beat due to his special game style," said Boll.
"But due to his age, things get harder, even for him. He has to invest a lot and can't be at 100 percent in every game. As an opponent, you have to try to take advantage of that.
"Fan is more or less at the same level. China still has two top players and three or four behind them are at an absolute world-class level."
Boll reckons his Ukraine-born teammate Ovtcharov, ranked No 3, could also knock Ma off his perch.
"Thanks to the new ranking system that starts in January, Dimitrij has got the chance to achieve top spot," Boll said of the 29-year-old.
"We get along well and push each other to a higher level."
At 36, Boll is the only over-35 player in the top 10, but the three-time world champion plans to continue until at least the 2020 Olympics in Tokyo.
"If I stay fit, I have some more years to go. I still love this sport," said Boll.
"I will retire when I can hardly train or attend competitions without feeling any pain."
Germany national coach Joerg Rosskopf believes Boll's 2020 aim is achievable.
"He doesn't have to think about retirement. He's exceptionally gifted, which allows him to play at such a high level," said Rosskopf.
Meanwhile, Boll has announced he will soon launch a new training website offering live sessions and detailed video analysis for players of all levels.
Grand finale
China won three out of four titles as the 2017 ITTF World Tour wound up at last week's Swedish Open.
The top-ranked stars on the circuit will now battle it out at the Grand Finals in Astana, Kazakhstan, from Dec 14-17, where the ITTF Star Awards will also be staged.
Awards will be handed out in eight categories, with Chinese captain Ma nominated for best male player, and compatriots Ding Ning and Zhu Yuling up for the female prize.
Xinhua