Grizzlies fire Fizdale after Gasol's benching
The Memphis Grizzlies fired coach David Fizdale on Monday - a day after he benched center Marc Gasol for the fourth quarter of an eighth straight loss.
General manager Chris Wallace announced that associate head coach JB Bickerstaff has been named interim bench boss.
"After a thorough evaluation, I decided a change in course was necessary to move forward and provide the team and organization its best chance at success this season and beyond," said Wallace.
Gasol, given a maximum deal by the Grizzlies in July 2015, sat throughout the fourth quarter of a 98-88 loss to the Brooklyn Nets on Sunday.
Gasol leads the Grizzlies in points, rebounds and assists, and he was an All-Star in Fizdale's inaugural season. But the center spent plenty of time after the game making it clear to reporters how upset he was at sitting out a full quarter.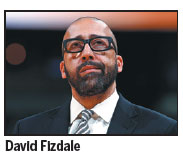 "It's a first for me, trust me, and I don't like it one bit," Gasol said. "I'm more upset and frustrated than I can show."
Fizdale explained his decision before Gasol spoke in the locker room and said he simply was trying to win a game while sticking with his reserves.
Fizdale said taking a risk as head coach means sometimes upsetting a player or two.
"If I'm not on the floor, I'm not valued," Gasol said. "I'm sure (the coaching staff) knew that would hurt me the most."
The move caught the NBA by surprise. Dwyane Wade, who played with the Miami Heat when Fizdale was an assistant coach, wrote on Twitter that he needed answers, while LeBron James retweeted a comment on Twitter calling the firing so stunning that he triple-checked the original ESPN report.
"I need some answers. Feels like my man was a fall guy," James wrote.
Fizdale became the franchise's 13th head coach on May 29, 2016, and had a record of 50-51.
Associated Press
(China Daily 11/29/2017 page24)