James sticks it to Sixers
LeBron nails 30 as Cavaliers win eighth straight
PHILADELPHIA - LeBron James showed the up-and-coming Philadelphia 76ers just how high the bar is to compete with the Eastern Conference's best.
James had 30 points, 13 rebounds and six assists to power the Cleveland Cavaliers over the 76ers 113-91 on Monday night.
Dwyane Wade scored 15 points and Jeff Green had 14 points and 10 rebounds as the three-time defending conference champions won their eighth straight game.
"These guys are starting to turn the corner here," James said.
"They have some great wins this year. We had to come in with the mindset that this isn't the Sixers of three years ago. They're starting to turn the corner and you have to be locked in from the onset."
James scored the first nine points on his way to 22 in the first half, helping Cleveland to a 53-45 lead.
"He got us off to a good start, making the shots, being aggressive, attacking the basket and everyone kind of followed," Cavaliers coach Tyronn Lue said.
"We know they are a good team. They've been playing well, playing hard. We knew it was going to be a tough place to play. I didn't expect this outcome, but we played well tonight."
Lue tried to downplay any significance of Cleveland beating a team on the rise.
"We're just trying to get better each day, each game," he said.
"We're finally figuring out who we are. We're getting better defensively, and offensively we're sharing the ball. We want to keep getting better."
Joel Embiid had 30 points and 11 rebounds to pace the 76ers, who had won three straight and five of six.
"We didn't make shots, we weren't aggressive defensively, and they got what they wanted," Embiid said.
"I hate losing, but I think that's actually good we got our (butt) kicked, so we can go back, learn and know that we can't take any days off."
Four-time MVP James had four points, including an emphatic dunk, and JR Smith hit three 3-pointers early in the third as the Cavaliers took a 14-point lead.
Philadelphia got within five in the third quarter, but the Cavs stretched the advantage to 86-73 entering the fourth.
"We will learn from this game," Philadelphia coach Brett Brown said. "We need to pressure. We need to be more active and disruptive, and they need to feel us. And they didn't."
Philadelphia's Ben Simmons entered leading all rookies in scoring (18.5 points), rebounding (9.1) and assists (7.7), but he was hounded all game by Jae Crowder and managed just 10 points before exiting in the fourth quarter with a right ankle sprain.
Associated Press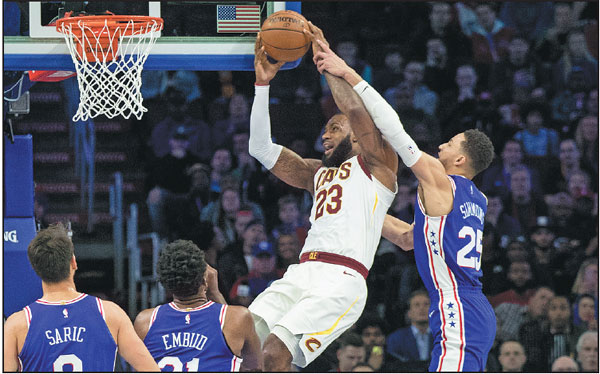 Cleveland Cavaliers' LeBron James is fouled by Philadelphia 76ers' Ben Simmons while going up for a shot during the first quarter of Monday's NBA clash in Philadelphia. Cleveland cruised to a 11391 victory. Bill Streicher / Usa Today Sports
(China Daily 11/29/2017 page24)