The painstaking art of scouting
Clubs going to great lengths to spot future stars
PARIS - Hundreds of banal matches, thousands of miles on the road, tedious training sessions and cultivating relationships with teachers and parents.
Such is the life of the soccer scouts scouring European playing fields for the next superstar.
Much of their method is kept secret and Romain Poirot, a former Manchester City scout now working for Watford and Udinese, said "it would be indelicate, revealing too much" to spill the beans.
However, he did reveal that he travels at least 5000 km per month to watch games, not counting plane and train journeys, on his quest to dig up a diamond in the rough on his constant meanderings around France.
"Experience is crucial," he said.
"I began with the 1993 generation, that of Paul Pogba. He was already phenomenal at 16. I had nothing to compare him against back then."
Poirot said that watching training sessions and matches at every level led him to develop a classification method.
"You eventually end up with an eye for it," he said.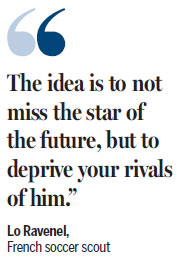 Luiz Rangel, a scout at Rio de Janeiro outfit Vasco da Gama, is of the same persuasion.
"You can't improvise this; just about everyone believes he is an expert and many of them bring us kids for us to trial," Rangel said.
Poirot uses the TIPS method in vogue at Dutch club Ajax. The acronym stands for technique, intelligence, personality and speed.
"Then you have to look at their growth to see if they are mature for their age or if they still have a development margin, to gauge their potential to develop through the ranks."
Another Vasco scout, Gilberto Figueiredo, said that mentality is vital.
"We speak to the kid's parents and teachers to find out about their everyday behavior," Figueiredo said.
He also said watching a non-descript training session at a prospect's school to observe their behavior away from the spotlight can be illuminating.
All this keeps the scouts on their toes.
When Poirot explains that he routinely watches upwards of seven matches per weekend, from third-division clashes to under-15s and 17s, it takes on the look of a labor of love.
'Healthy rivalry'
Rivalry between scouts is ferocious, even if Figueiredo calls it a "healthy rivalry."
"The key thing is to be quick about it, faster than your rival.
"You need a good network at the heart of the key competitions, to know the organizers and leaders at small clubs."
French scout Lo Ravenel cuts to the quick.
"The idea is to not miss the star of the future, but to deprive your rivals of him."
In that spirit, Real Madrid paid $60 million to take Brazilian sensation Vinicius Junior, who will join them when he turns 18 next July.
But financial might is not the only method. Paris Saint-Germain wonderkid Kylian Mbappe almost signed for tiny Caen two seasons ago.
Former Caen scout Laurent Glaize told French daily Ouest France about the extensive lengths the club went to in its bid to sign him.
"We went to see him where he lived at least twice a month and gradually got closer to his parents and started to get on with them."
But in this case, ambition told. Caen was stuck in the second division and powerless to intervene as Mbappe slipped from its grasp, signing instead for Monaco.
That proved costly in more ways than one. Earlier this season, Monaco agreed to sell Mbappe to Paris Saint-Germain for $200 million.
Agence France - presse
(China Daily 11/21/2017 page22)