Ibrahimovic confident City can be caught
MANCHESTER, England - Zlatan Ibrahimovic believes Manchester United can catch runaway Premier League leader Manchester City after he and Paul Pogba made a triumphant return from long-term injuries on the weekend.
The Swedish striker came on as a late substitute in the 4-1 victory over Newcastle on Saturday, his first action since sustaining a career-threatening knee injury in April.
His return drew an emotional response from United manager Jose Mourinho, who had also been able to welcome back club-record signing Pogba, who started against Newcastle, setting up an equalizer and scoring himself.
"I think we can chase City, why is it not a possibility?" said Ibrahimovic.
"We are all here because we want to win and we need to do that because they are first.
"I can talk of what Paul brings - big quality. Today it is like he hasn't been injured for a month, he brings such big quality, a different quality and I bring experience and mine.
"I try to help the guys as much as possible and do what I can.
"This week the manager has been very happy because he has a full team for the first time this season and as a coach you want those opportunities and alternatives to make changes.
"I think there is a possibility for winning everything. We were early into it last year and won two trophies and we are stronger this season."
Ibrahimovic's comeback has been remarkably quick, given the seriousness of the injury and his age.
Mourinho was clearly moved to see the 36-year-old back in action, a good month ahead of schedule.
Ibrahimovic revealed the role his manager played in his recovery, not least in signing him to a new contract while he was still recuperating.
"It's fantastic to be playing," he said.
"Jose said, 'Do whatever you want, I trust in you and you know what you have to do,' so I was not worried."
Agence France-presse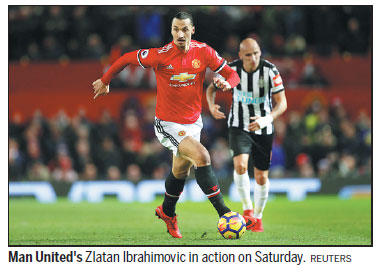 (China Daily 11/21/2017 page22)