Swerving Irving too hot to handle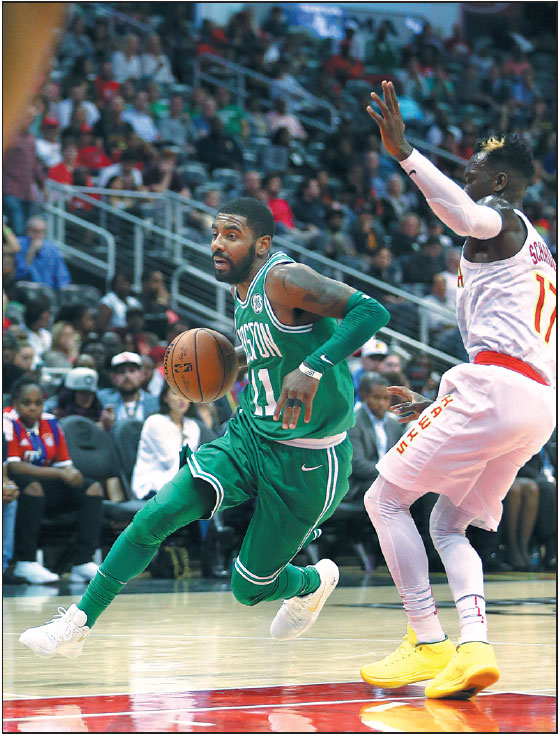 Boston Celtics' Kyrie Irving drives past Dennis Schroder of the Atlanta Hawks during the first half of Monday's game in Atlanta. Boston won 110-107. [Photo/Agencies]
Elusive Kyrie the catalyst as Celtics squeak past Hawks
ATLANTA - Kyrie Irving took charge in a fashion only he can.
Dribbling and weaving through the lane and around the perimeter, Irving scored from all over and kept his teammates involved all night.
"It's a beautiful game when it's played the right way," the four-time All-Star said. "It's not going to look good every possession, but you've got to be able to move onto the next play. I understand that better than most."
Irving scored 35 points, Jayson Tatum added 21 and the Boston Celtics held off the Atlanta Hawks 110-107 on Monday night for their ninth straight victory.
Irving's 3 from the right wing put the Celtics up 104-103 - the game's 25th lead change - with 1:37 remaining, and Boston stayed ahead the rest of the way.
Dennis Schroder had 23 points for the rebuilding Hawks, who dropped to 2-9 a night after a surprising two-point win at Cleveland.
"It would've been sweet to win two in a row against those kinds of teams," Schroder said. "But we ended up short."
Boston improved to 9-2, the best in the NBA, and has its longest winning streak in seven years.
Al Horford had 15 points, 10 rebounds and nine assists in his best game against his former team. Horford spent his first nine seasons in Atlanta before leaving as a free agent ahead of last season.
Irving had his first 30-point game as a Celtic on a night packed with highlights.
He dribbled between his legs and behind his back before hitting a floater off the glass from the left baseline to put Boston up 46-44.
Late in the third quarter he dished out a pair of assists with long, one-handed passes that led to 3s by Marcus Smart and Tatum, the latter giving Boston a 72-71 lead.
Irving either scored or assisted on every basket of a 16-2 run in the third that put the Celtics up by seven. He finished with seven assists.
"He's just very unique," Horford said. "He has a good sense of how teams are playing him."
The Celtics started to pull away and took their biggest lead at 10 on Semi Ojeleye's 3 early in the fourth, but the Hawks came back to take a few brief leads in the final period.
"To compete the way we did and give ourselves a chance to win, we got better tonight and we can learn from it," Atlanta coach Mike Budenhozler said.
That's a drag
Boston coach Brad Stevens wasn't pleased with the ball movement or defense early in the third, storming the floor to call a timeout after Atlanta's Luke Babbit hit a 3 to put the Hawks up 57-54.
"You could just tell mentally and physically we were dragging a little bit," Irving said.
"That's going to happen sometimes, considering how hard we play, but we don't want to make that a habit for us. No excuse."
Budenholzer joked before the game that he regretted having his assistants work with the 6-foot-10 Horford a couple of years ago to develop a strong presence beyond the perimeter.
Horford, who went just 1 for 5 on 3s, entered the game shooting nearly 52 percent on 33 attempts from the arc.
"I think there was just a real push from us and a credit to him that he could do it," Budenholzer said. "It's part of the way the game is, and his passing just opens up the court even more for him to drive and attack. He's such a good player, such a smart player."
Associated Press