Heavy artillery rocks LA
Astros pound five homers to win wild slugfest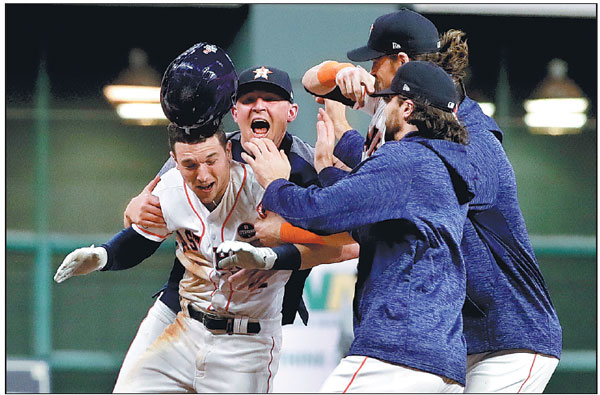 Alex Bergman is mobbed by Houston Astros teammates after his walk-off single in the 10th inning beat the Los Angeles Dodgers 13-12 in Game 5 of the World Series at Minute Maid Park in Houston on Sunday. The Astros now lead the best-of-seven series 3-2, with Game 6 on Tuesday in Los Angeles.Matt Slocum / AP
HOUSTON - When the winning run finally came sliding across home plate on Alex Bregman's single - more than five hours after the first pitch - a frantic Carlos Correa sprinted toward his Houston Astros teammates in the middle of the diamond.
Arm in the air, pure elation all over his face. Another classic image from a World Series that's been filled with them.
Correa, Jose Altuve and the Astros kept hammering away in a wild slugfest that no one saw coming, knocking out ace Clayton Kershaw and rocking the Los Angeles Dodgers 13-12 in 10 thrilling innings on Sunday night to take a 3-2 lead in the Series.
Game 6 is on Tuesday in Los Angeles.
"I felt like I was going to have a heart attack out there," Correa said.
In a tension-filled game of monster momentum swings at pulsating Minute Maid Park, the last one belonged to Bregman.
With the packed crowd still standing well past midnight, the 23-year-old third baseman ripped an RBI single with two outs off Kenley Jansen.
With seven home runs, this perhaps topped Toronto's 15-14 win over Philadelphia in 1993 as the craziest World Series game ever - spread over five hours and 17 minutes.
"Yeah, a five-hour game, but it doesn't matter. I'll play a 10-hour game if we're going to win," Altuve said.
Now, with both bullpens worn down, the teams get a day to recover.
Justin Verlander will try to clinch the Astros' first championship in Game 6 while Rich Hill will be aiming to save the Dodgers' season.
Altuve, Correa, Yuli Gurriel, George Springer and Brian McCann homered for Houston, the highest-scoring team in the majors this season.
Cody Bellinger and Yasiel Puig went deep for the Dodgers, who scored three times in the ninth to tie it 12-12.
"It's hard to put into words all the twists and turns," Astros manager AJ Hinch said.
"These are just two really good teams, just throwing haymakers at each other trying to outlast each other," he said.
Silenced after ace Dallas Keuchel was chased in the third, the orange-clad fans erupted over and over as the Astros sent balls careening all around - and out of - the park.
But no lead was safe.
Puig lined a two-run shot in the ninth, the record 22nd homer in a single Series, and Chris Taylor's two-out single off Chris Devenski tied it.
"I think this whole series has been an emotional roller coaster," Dodgers manager Dave Roberts said.
"It's the two best teams playing for a championship. And these are two teams that play 27 outs."
More than that, in fact.
Houston posted its second extra-inning victory of the Series, adding to its 7-6, 11-inning comeback win in a dramatic Game 2.
With two out in the 10th, Jansen hit McCann on the hand with a pitch and Springer walked.
Bregman, who homered off Jansen in Saturday night's loss, lined the next pitch over shortstop to score pinch-runner Derek Fisher, who slid home ahead of the throw from left fielder Andre Ethier.
"We're up 3-2, baby," Bregman said.
Out of nowhere, the Astros climbed out of a four-run hole against Kershaw and then erased two more deficits later in the game, tying it each time on a home run.
Correa leaped and twirled after launching a two-run drive that made it 11-8 in the seventh.
Two hours later, he hurdled the dugout railing the moment Bregman lined his winning single.
Bellinger hit a three-run drive in the fifth that made it 7-4 and seemed to swing things back in the Dodgers' favor. By the end of the mayhem on the mound, it was a mere afterthought.
Each team had 14 hits, eight for extra bases, and both used seven pitchers.
"Man, I'm mentally exhausted right now," Bellinger said.
Associated Press