An ongoing exercise in excellence
Guidance needed
With exercises such as long-distance running and bodybuilding gaining momentum, self-reliant approaches have exposed some participants to potentially deadly risks through improper regimens.
To address the issue, the GASC and China Institute of Sport Science published the country's first National Fitness Guide earlier this year, aimed at providing a basic reference for fitness enthusiasts to better manage their workouts, diet and nutrition.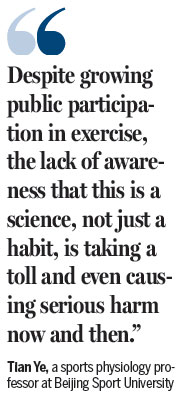 Compiled by CISS and supporting universities, the guide outlines the health benefits of five major exercise categories, including cardiovascular, weightlifting and ball games, and provides age-specific training routines focused on frequency, duration and intensity.
The regimens also make allowance for individual physical and mental conditions, and are designed to help people realize their fitness goals safely.
"Despite growing public participation in exercise, the lack of awareness that this is a science, not just a habit, is taking a toll and even causing serious harm now and then," said Tian Ye, a sports physiology professor at Beijing Sport University and head of the group that compiled the report.
According to the national fitness survey - based on data from 81,828 people aged 20 or older - about 47 percent of respondents exercised without any guidance while 32 percent were guided by non-professional friends and colleagues.
The weekly training arrangement in the guide, which elaborates on exercise duration, intensity and energy consumption for each sport from entry to advance levels, was praised by trainers for its compatibility.
"A girl who wants to lose fat definitely needs a very different routine from one who is training to run a full marathon. A guide that considers differences based on everyone's condition will produce results," said Yang Bin, owner of the NowFitness gym chain in Beijing.