Harden-fueled Rockets firing on all cylinders
Superstar helps Houston improve to 3-0 on proud night for China's Zhou
HOUSTON - James Harden and Houston Rockets coach Mike D'Antoni stressed the importance of establishing a consistent defensive presence after the team's 107-91 win over the Dallas Mavericks on Saturday night.
Harden scored 29 points to lead the Rockets to victory in their home opener following two triumphs on the road.
Chinese rookie Zhou Qi, meanwhile, made his NBA debut, playing seven minutes in the fourth quarter and posting three rebounds and one block.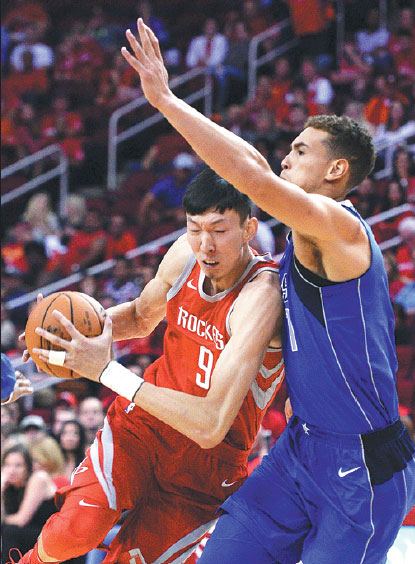 Houston Rockets' Zhou Qi tries to drive past Dennis Smith Jr. of the Dallas Mavericks during the Chinese rookie's NBA debut on Saturday in Houston. The 21-year-old former Xinjiang Flying Tigers star was on court for seven minutes, in the fourth quarter, making three rebounds and one block. [Photo by George Bridges/AP]
The 7-foot-1 former Xinjiang Flying Tigers power forward was drafted 43rd overall in the 2016 draft.
While Houston's hot shooting was key, holding the Mavericks to 20 points or less in each of the first three quarters gave the Rockets plenty of breathing space.
"From the beginning of the game, defensively, we were locked in, and offensively, we made shots," Harden said. "That's going to be our blueprint is making shots."
The Rockets were 18-0 when holding opponents to less than 100 points last season. Through the first three games, they're allowing 104.0 points per game, down from an average of 109.6 last season.
"I think we're trying to build a good defensive base," D'Antoni said. "We're trying to understand where we're at offensively. I wish Chris (Paul) would be here so we can keep getting better. I'm happy where we're at, but we've got a long ways to go. But 3-0 is 3-0."
Playing without Paul, who is week to week with a left knee injury, Harden frequently bulldozed his way into the paint for layups while also keeping hot from beyond the arc. Harden made six of 13 3-pointers and added seven assists in 29 minutes.
Houston improved to 3-0 for the first time since the 2014-15 season when it started 6-0. Dallas fell to 0-3 for the first time since the 2011-12 season, which followed their NBA title run in 2010-11.
Without Paul, the Rockets started Harden and Eric Gordon in their backcourt, with Demetrius Jackson playing 18 minutes and scoring four points off the bench. Gordon had 18 points, while Clint Capela had 13 points and 10 rebounds, and Nene scored 14 points off the bench.
"We've got a long way to go, but this was a good start," Harden said. "As we watch film, change things and continue to get better, we'll move forward and figure out things we can get better at."
For the Mavericks, both Yogi Ferrell and JJ Barea had 19 points, Harrison Barnes had 14 and Wesley Matthews 11. Dirk Nowitzki was held to just two points on 1-of-8 shooting in 19 minutes.
While the Mavericks played mostly with a smaller, guard-heavy lineup, Houston played its lengthy, physical forwards and dominated the rebound category. Houston outrebounded Dallas 54-41, and the margin was much wider entering the fourth quarter once the game was out of reach.
"There's no excuse. We just have to go get the ball," Matthews said. "Simple and plain we have to go get the ball. Nobody's walking through that door that's going to go grab us 25 rebounds a night. Collectively, we have to do it. It's as simple as that."
Nowitzki received a technical foul for shouting at an official early in the third quarter. Tasked with playing the role of the paint protector on defense, Nowitzki struggled at times to keep Houston from scoring inside. The Rockets outscored the Mavericks 50-30 in the paint.
Houston outscored the Mavericks in each of the first three quarters by wide margins of 13, 10 and 11 points thanks in large part to redhot shooting. The Rockets shot 47.6 percent from the field, going 13 for 31 (42 percent) from 3-point range.
Houston led 62-39 at halftime.
After a 4-0 sweep of the series last season, Houston has won five straight games against Dallas, the longest streak since 1999-2000. The Rockets have won 11 of the past 14 games against Dallas.
Associated Press