Rockets complete a California sweep
SACRAMENTO, California - Just imagine what these Houston Rockets might look like months from now, when James Harden has a healthy Chris Paul alongside him in the backcourt and Mike D'Antoni's rotations become more consistent.
Beginning the season with a tough back-to-back in Northern California hardly made for an easy start, but Houston is an impressive 2-0.
Harden had 27 points and nine assists as the Rockets made it a perfect two-game road trip to open the season, beating the Sacramento Kings 105-100 on Wednesday night to spoil another home team's opener.
"Obviously this trip was going to be tough, but we did a really good job, especially tonight, of not letting up and just playing four quarters," Harden said.
"We say it all the time: We might not knock you out in the first, second or third quarter, but in the fourth quarter, if we keep playing the way we need to play, we've always got a chance."
While he didn't shoot especially well, Harden hit a trio of dagger 3-pointers over the final eight minutes - the second of which put Houston ahead 89-79. He also had a key left-handed layup and finished 8 for 21 and 4 of 14 from 3-point range.
Sacramento forced the Rockets into a shot clock violation and the Kings got the ball back with less than a minute remaining and down 96-92.
Willie Cauley-Stein made one of two free throws with 41 seconds left and Harden found Clint Capela for an alley-oop dunk moments later.
After the Kings stole the inbounds pass from Eric Gordon with 25 seconds left and down 98-95, it was initially ruled a Sacramento ball but the play went to review and a foul was issued to George Hill instead. Gordon converted two free throws.
Capela had 22 points and matched his career high with 17 rebounds. Paul sat out with a bruised left knee that limited him during Houston's stunning comeback 122-121 win at Golden State on Tuesday after the Warriors held their championship ring ceremony.
Gordon started for Paul and scored 25 points with four 3-pointers, a night after missing all six of his tries from long range but still winding up with 24 points in 29 minutes.
Buddy Hield scored 10 of his 19 points in the third quarter for Sacramento and tied the game at 68 on a 3-pointer with 3:33 left in the period. Cauley-Stein had 21 points on 10-for-15 shooting, 10 rebounds and three blocked shots.
The Rockets looked sluggish at times but had enough to win their sixth straight game in California.
"To validate yesterday we had to win today" D'Antoni said.
"At the same time, a back-to-back on the opening two nights, especially as it's so emotional, that takes more out of you."
Associated Press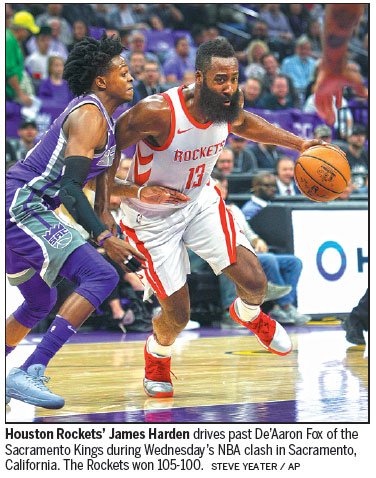 (China Daily 10/20/2017 page23)