Marbury focusing on talent, not revenge, to roast Ducks
Beikong Fly Dragons point guard Stephon Marbury insists revenge won't be on his mind when he faces the Beijing Ducks this season.
In April the former NBA All-Star, widely considered the best foreign player in CBA history, was acrimoniously discarded by the Ducks, whom he led to three titles from 2012 to 2015.
After signing with city rival Beikong in July, the 40-year-old Marbury is playing down talk of a grudge match between the capital clubs in their first meeting of the new CBA season, which tips off on Oct 28.
"There's no extra motivation," Marbury said of facing the franchise where he became a national icon.
"It's going to be an emotional game for me given all my passion, love and commitment for that organization. But this is a business and I can't look at it in any other way.
"For me, playing against them is just like playing against any other team that you want to beat."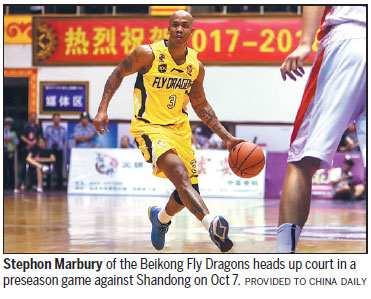 Marbury is more focused on the bigger picture than settling any old scores.
"I did pretty much everything I possibly wanted to do (with the Ducks). I just want to help this organization get into a winning formula," said the New Yorker, whose statue and personal museum in the capital are testament to his hero status.
"No individual goals matter to me now. It's only about being able to help Chinese basketball and to have an impact to see the young players grow and progress. It's important for me to see the game grow here."
The rebuilding Ducks deemed Marbury surplus to their requirements after the American balked at a request to quit playing and become an assistant coach for the 2017-18 season.
His subsequent exit was greeted with dismay and outrage by fans, but now the young Fly Dragons, owned by State-controlled Beijing Enterprises Group, hope the Ducks' loss is their gain as they enter their fourth season in the CBA.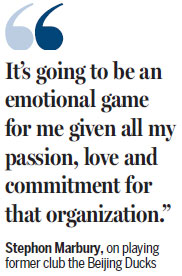 The team has signed the experienced front-court tandem of American Shavlik Randolph and Jordanian Zaid Abbas to assist Marbury, who has high hopes for the franchise.
"My thinking is always trying to win the championship. I don't go into any season not thinking about that," he said. Beikong's new head coach Ding Wei isn't quite as bullish.
"The ambitious and aggressive mindset of Marbury will help us to forge a new team identity as a young troop daring to challenge anyone, but we're aware of the gap between us and the strongest in the league," said Ding, former assistant coach of reigning CBA champion the Xinjiang Flying Tigers.
"We need to work harder on gelling as a team. Our chemistry is not yet where I expect it to be."
The Fly Dragons dropped two of their three preseason games in Sichuan province after winning the Seri Mutiara Cup, an eight-club offseason tournament, in Malaysia last month.
Marbury averaged 14.2 points in six games.
"It's a great situation for me at my age with so many people doubting whether or not can I play at a high level," said the former New York Knicks and Boston Celtics star, who earlier this year revealed he still harbors hope of returning to the NBA before he retires.
"That's where my drive and desire come from."
Remaining at Beikong beyond next season is also a possibility for Marbury.
"You never know what the future holds as far as me being here as a consultant and helping develop the young players," he said.
sunxiaochen@chinadaily.com.cn
(China Daily 10/19/2017 page22)