Stoking hoop hopes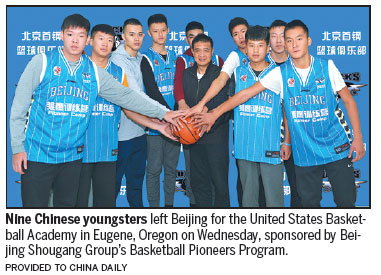 A pioneer program is paving the way for Chinese youngsters to emulate the path taken by their NBA idols from high school to the professional ranks.
Using Boston Celtics All-Star guard Kyrie Irving as his model, Guo Yuchao, a ball-handling specialist for the Tsinghua University High School team, has been polishing his crossover dribble, midrange jumper and finishing skills since entering the basketball speciality school in 2015.
Now, as one of nine players drafted through the Beijing Shougang Group's Basketball Pioneers Program, Guo is embracing a chance to follow Irving's route to stardom.
Under the program, jointly launched by Shougang Group, a State steel mill, and the United States Basketball Academy, the nine players selected from 57 candidates at an under-15 tryout camp organized from July to September left Beijing for the academy in Eugene, Oregon, on Wednesday.
They will spend nine months perfecting their basketball skills under a customized training regime while receiving preparatory academic courses, including English, for US high school admission next fall.
"To be honest, I am a little bit anxious about leaving my family for the first time to study and train overseas for so long," said 14-year-old Guo. "But the chance to learn the game at its birthplace and to follow the curve of NBA stars is so appealing. I can't describe how excited I am."
According to Min Lulei, chief of Shougang's basketball program, language and cultural courses will be given the same priority as basketball over the nine months.
"We want to emulate the way basketball talent develops in the traditional US system from schools to the pro level," said Min, who guided Beijing Shougang Ducks to three Chinese Basketball Association titles between 2012 and 2015.
"The ultimate goal for these kids is to attend US colleges and play in the NCAA system, with a shot at being drafted into the NBA."
The USBA will dictate the training program over the nine-month course and help the players apply for high school admission next year. The Shougang Group will provide them with funding through their college graduation.
All the players are obligated to sign with the Beijing Shougang Ducks if they choose to return to play in the CBA after college graduation.
Citing the example of Chinese NCAA prospect Zhang Zhenlin, Bruce O'Neil, president and founder of the USBA, envisions a bright future for the group.
"Zhang is truly the poster boy for what has now become the Beijing Shougang pioneer program," said O'Neil.
"We have prepared customized study and training programs and have hired experienced staff. Many more student players will follow in Zhang's footsteps."
In March, Zhang, an 18-year-old forward who entered the USBA through Shougang's network five years ago, became the first Chinese to win a US high school title, the Dick's Nationals, as a key member of Indiana's La Lumiere squad.
Zhang has since entered Montverde Academy in Florida for college enrolment next year. Multiple schools, including UCLA, have shown interest in offering him a basketball scholarship, said O'Neil.
"The year Zhang spent at USBA helped him close the gap culturally and athletically with his American peers and paved the way for him to shine in the high school system," said Min.
"We expect the same thing to happen with this latest group of kids."
Compared to the traditional Chinese system, the combination of academic study and athletic training in the US is a major motivator for Chinese parents.
"We have concerns on their life overseas, but we don't worry much about their future," said Zhou Runjuan, mother of Wu Yonghao, one of the nine players selected.
"Their education in the US will at least give them other professional choices if their basketball skills are not enough to earn a living."
sunxiaochen@chinadaily.com.cn