Hungry Wolves on the prowl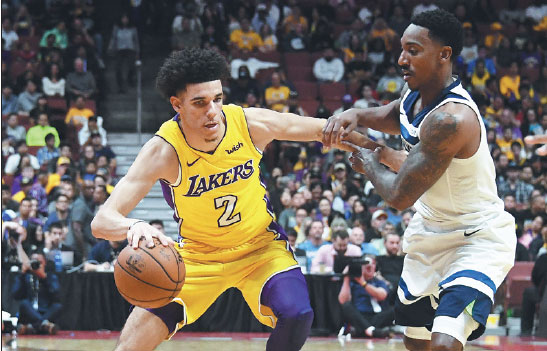 Minnesota Timberwolves' Jeff Teague challenges Los Angeles Lakers' Lonzo Ball during a preseason game on Saturday. After spending last season with the Indiana Pacers, Teague became a free agent and signed a three-year, $57 million contract with the Wolves in July. Usa Today Sports
New-look Minnesota primed to end years of playoff frustration
"New era. New look."
That was the marketing slogan surrounding the launch of the Minnesota Timberwolves' new logo in April.
The phrase was coined before the team traded for three-time NBA All-Star Jimmy Butler and signed 2015 All-Star Jeff Teague to a roster anchored by former No 1 overall picks and NBA rookies of the year Karl-Anthony Towns and Andrew Wiggins.
Minnesota, it turns out, was just getting started with its makeover.
After acquiring Butler from the Chicago Bulls and landing Teague in free agency, the Timberwolves signed the NBA's only three-time Sixth Man Award Winner, ageless guard Jamal Crawford, and agreed to terms with steady veteran power forward Taj Gibson, who spent five seasons in Chicago with Butler under current Minnesota head coach Tom Thibodeau.
With Butler in his prime, Towns and Wiggins merely scratching the surface of their potential and capable veterans filling out the rotation, the Timberwolves can now add new expectations to their identity.
Minnesota is viewed as a team ripe for a turnaround after finishing 13th in the Western Conference last season (31-51) and extending the league's longest active playoff drought to 13 years.
The Timberwolves will showcase their rebranded look and revamped roster when they face the defending champion Golden State Warriors in the preseason NBA China Games 2017, presented by Master Kong.
The first game is Oct 5 at Shenzhen Universiade Center, followed by a rematch on Oct 8 at Shanghai's Mercedes-Benz Arena.
"You always think about ways that you can improve," Thibodeau told NBA.com. "We just wanted to improve the team, and there are steps you have to take along the way. We understand that there's a lot of work that has to be done, but we want to improve every day."
Butler, an All-NBA Third Team selection in 2016-17, personifies improvement.
He was lightly recruited out of high school and spent a year in junior college before establishing himself at Marquette University.
Selected by the Bulls with the 30th pick in the 2011 draft, the 6-foot-7 shooting guard has turned himself into one of the top two-way players in the league. He was named the 2014-15 NBA Most Improved Player and earned a gold medal with the 2016 US Olympic team.
"When I'm not in front of the camera or on TV, I'm working," Butler said in an interview with Minnesota's team website.
"I take pride in that. This game has brought me so much, and I never take that for granted."
Thibodeau is banking on the 28-year-old having a positive impact on the 21-year-old Towns and the 22-year-old Wiggins.
"We wanted more veteran experience and leadership," said Thibodeau, who is also the Timberwolves' president of basketball operations.
"Where Jimmy is in his career, I think he can share some of the things he's been through with Karl and Andrew.
"I've seen what Jimmy brings to the table and how much work he puts into his game. Those types of things rub off on other players."
In 2016-17, the 7-foot Towns led the Timberwolves in scoring (25.1 ppg) and rebounding (12.3 rpg) and broke the franchise's single-season points record with 2,061.
He was the first second-year player to average at least 21 points and 11 rebounds since the San Antonio Spurs' Tim Duncan in 1998-99.
The 2015-16 NBA Rookie of the Year also became the first player in league history to have at least 2,000 points, 1,000 rebounds and 100 three-pointers in a season.
Wiggins, the first Canadian ever to be drafted No 1 overall, was the 2014-15 Rookie of the Year.
He continued to progress during his third season, establishing career highs in scoring (23.6 ppg) and three-point field goal percentage (35.6)
The 6-foot-8 swingman has missed only one game since being selected by the Cavaliers with the top pick in 2014 and traded to the Timberwolves in a deal for Kevin Love.
China Daily