Master Kong's masterstroke with the NBA
Since announcing its partnership with NBA China in 2015, Master Kong, China's leading instant food and beverage brand, has been trying to increase its engagement with grassroots culture and the younger generation via basketball.
As part of that strategy, Master Kong, which has a consumer reach in more than 1,000 cities in China, is launching a series of themed charity and family activities during the upcoming NBA China Games 2017.
"We will launch charity activities during the NBA China Games 2017 this year," said James Wei, CEO of Master Kong.
"We plan to launch more charity and family activities with the NBA. Basketball is not just a game for professionals. Anyone can play a 3-on-3 game in his or her community. From the street to the Hall of Fame, it's a game for everyone."
The Minnesota Timberwolves and Golden State Warriors will present the NBA China Games 2017 on Oct 5 and Oct 8 in Shenzhen and Shanghai, respectively, and Master Kong has a number of special events planned in conjunction with the games.
The company is using its partnership with the Chinese University Basketball Association (CUBA) to enhance these activities.
"First of all, we are setting up meetings and activities between coaches of China's university teams and NBA coaches," said Wei.
"Also, we will arrange for cheerleaders from China's universities to meet with and learn from professional NBA cheerleaders.
"We will also launch charity activities with the NBA to mark the 25th anniversary of Master Kong's entry into the Chinese market. Apart from that, we will partner with the NBA to organize promotions all around China, including games and online activities.
"About 300 million Master Kong beverage packages are promoting the NBA brand. This month we will launch themed beverage bottles featuring images of NBA teams and player. This will build images for the players, the teams and our brand."
During years of working with the NBA, Master Kong has focused on reaching young consumers. It counts all teenagers and children as would-be lovers of the brand. With that in mind, the company is also looking to connect with consumers via new partnerships.
"The NBA is a crucial partner of our strategy," said Wei.
"Apart from young middle-class customers and talented youngsters from university basketball leagues, we want to reach out to high school and even middle school students.
"The more young kids love basketball the better, so they can engage with and love our brand.
"We want our brand to be known and loved by all age groups and genders. It's the 25th anniversary of the Master Kong business, and what've been trying to do is to enlighten and brighten modern lives."
China Daily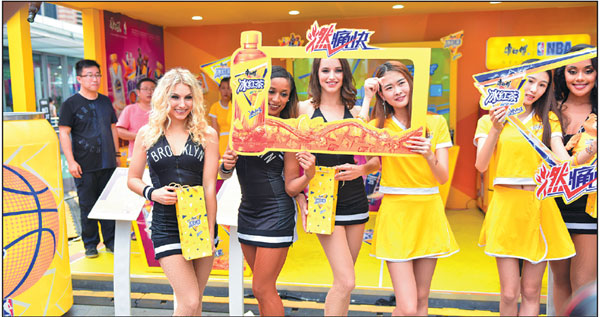 Brooklyn Nets cheerleaders pose at a promotional campaign for Master Kong products during a NBA-themed tournament in China.File Photo
(China Daily 09/27/2017 page24)