Ding Junhui claims 13th ranking event title at 2017 Snooker World Open
YUSHAN, CHINA - After just four frames in night session, Ding Junhui won his 13th ranking event title, beating Kyren Wilson within 13 frames in the best-of-19 finals of 2017 Snooker World Open in Yushan County, China's Jiangxi Province on Sunday night.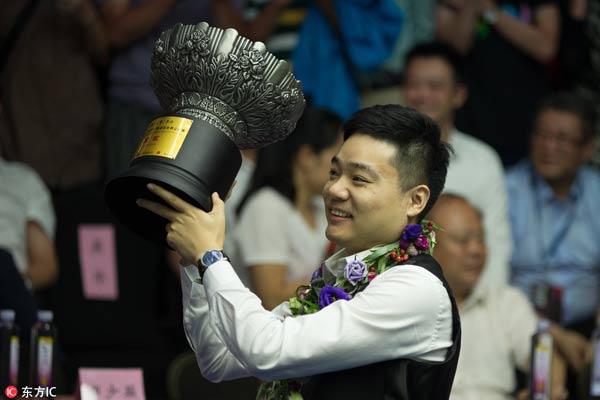 Ding Junhui of China poses with his trophy after defeating Kyren Wilson of England in their final match during the 2017 World Open snooker tournament in Yushan county, Shangrao city, east China's Jiangxi province, 24 September 2017. [Photo/VCG]
As the home favorite, Ding had three China derby successively with Zhang Anda, Xiao Guodong and Li Hang on his way to the final, he also defeated Joe Perry and the 2017 China Championship winner Luca Brecel.
As the 2015 Shanghai Masters winner, Kyren Wilson survived the test of Mark Allen, Thepchaiya Un-Nooh and Mark Williams on whom he had a stunning unanswered run of 503 points. Wilson defeated Ding 5-1 at their last meet at the quarterfinals of 2017 China Open in Beijing.
In the afternoon session, Ding took an early 6-1 lead after seven frames with consecutive breaks of 67, 93 and 58. Wilson regained his form to win the last two frames to cut the deficit down to 3-6.
Ding dominated the night session as he didn't lose a single frame to finish the final 10-3. He won his 13th ranking event title and 150,000 pounds winner prize, surpassing Mark Selby and Neil Robertson to be the snooker player born in 1980s with most ranking event titles. The victory will also see him move to number two in world rankings.
The trophy is a reward for Ding who went through a year of ups and downs. He won the 2016 Shanghai Masters on September 25, 2016 before lost to Mark Selby in semifinals of World Championships.
"A lot of things happened this year, including what happened to my mother, I missed her very much especially after the last frame, I thought a lot, trying to cheer myself up," said Ding. Ding's mother passed away this January.
"I've been in good and bad times in my career, now I am learning to adapt to the changes," he added, "The World Championship is always the aim. I will have a vocation and then prepare for the next tournament."