Song set to boost China's puck luck
Nation's first NHL draftee happy to shoulder tall task ahead of 2022
As the NHL's first draftee from China, Song Andong is living up to his billing as the face of hockey in this country by embracing the tall task of helping launch the game into the national sports mainstream ahead of the 2022 Beijing Winter Olympics.
Since Beijing was awarded the Games in July 2015, hockey's rise from obscurity to burgeoning popularity in the capital has been obvious, as evidenced by the impressive turnout at Saturday's NHL China Games finale between the Vancouver Canucks and Los Angeles Kings that drew more than 12,000 raucous fans at Wukesong Arena.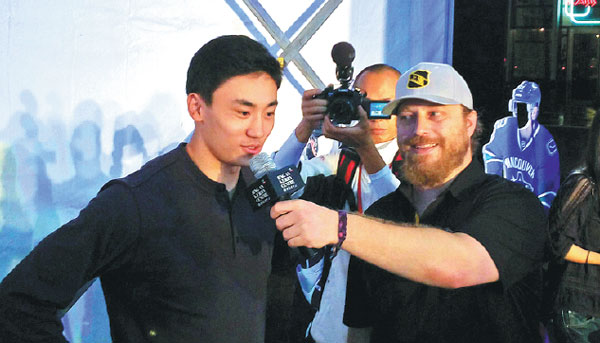 Song Andong, the Beijing-born defenseman who was drafted by the NHL's New York Islanders in 2015, was a popular interview subject during the NHL China Games. Sun Xiaochen / China Daily
Song, who was drafted by the New York Islanders in June 2015, said he felt a little jealous of those witnessing the spectacle.
"When I was a kid, watching a live hockey game in Beijing was impossible. I had to buy old DVDs of competition highlights from overseas to feed my interest in the sport," said the 20-year-old Beijing native.
"Chinese fans can now watch the highest-level games on their doorstep, which signifies the growing public perception and fast development of hockey in China."
Scenes of Chinese kids swinging sticks and hitting pucks at a Fan Fest outside Wukesong Arena and the ever-increasing number of players registered with the Beijing Hockey Association underline Song's enthusiasm.
Still, the huge challenge to raise the competitive level of China's national hockey program in order to qualify for the 2022 Olympics was illustrated when Song stood next to 2.29-meter-tall former NBA star Yao Ming at Saturday's game.
Considered Chinese hockey's equivalent of Yao singlehandedly raising the NBA's profile here, Song said he is flattered being compared to the basketball legend but insisted he still has a long path to follow.
"It's a big role to be put in this position," said the 1.85-meter-tall, 88-kilogram defenseman, who plays for Wisconsin's Madison Capitols in the amateur United States Hockey League.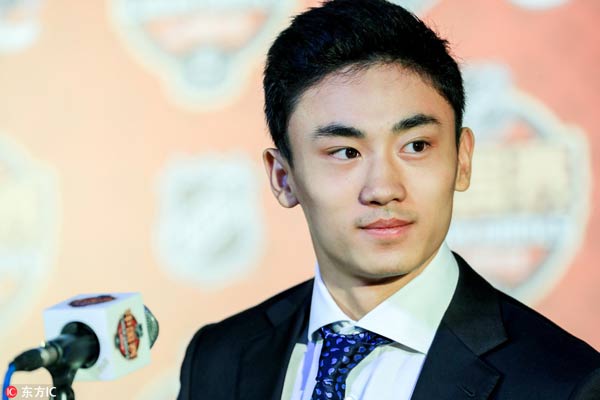 Song Andong attends a pre-game press conference at NHL China Games finale between the Vancouver Canucks and Los Angeles Kings in Shanghai September 21, 2017. [Photo/VCG]
"Although hockey is gathering a lot of attention here, it's still in its infancy. Just to be the face to help grow the sport is a big honor and I am very happy to do it."
Having trained in North America for a decade since moving to Canada in 2007 to pursue his hockey dream, Song understands that being drafted is still a long way from donning an Islanders jersey in an official NHL game.
"The gap between junior hockey and the top professional level is huge," said Song, who has committed to play for Cornell University in the NCAA, starting next fall.
"My focus now is to improve my physicality and my game in all possible aspects as quickly as possible. Hopefully, I will be ready when the Islanders came knocking."
After being drafted, Song reported to the Phillips Academy in Massachusetts to play a season in the New England Prep School Hockey Association.
After playing 39 games for Madison last season, Song will spend one more gap year in the USHL to prepare for the more physically demanding NCAA competition.
Capitols head coach Garrett Suter envisions a bright future for Song in the collegiate ranks.
"He's done a lot of hard work on and off the ice this season to get where he's at. He'll do great at Cornell, and I'm glad he'll have one more year in Madison," Suter told website colorofhockey.com.
"He still has a few things to work on, but I couldn't be happier for the kid."
sunxiaochen@chinadaily.com.cn