Zhou has a way to go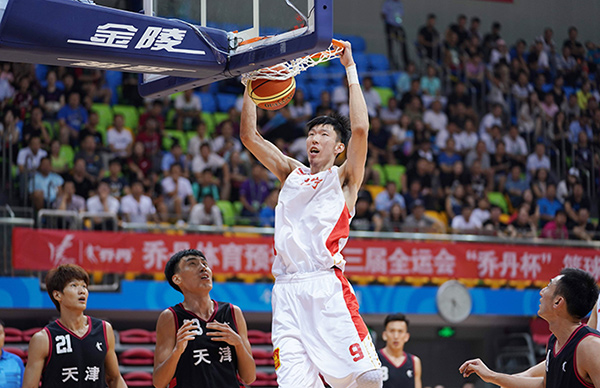 Zhou Qi of Liaoning dunks during a victory over host Tianjin at the Chinese National Games last week. Zhou was drafted 13th overall by the Houston Rockets in 2016. [Photo provided to China Daily]
Yao Ming was 22 when the Houston Rockets made him the first overall pick at the 2002 NBA Draft.
Zhou Qi, 21, was drafted 13th overall by the Rockets in 2016. If he appears on Houston's roster in the upcoming season, he will be the NBA's first Chinese player since 2012.
There are similarities between Zhou and Yao: Height, shooting accuracy and passion for the sport. But Zhou has a long way to go if he hopes to even come close to matching Yao's longevity at the summit.
"Competing in the NBA means pushing your physical and mental endurance to extremes, and one has to face a long-term tough and self-disciplined life," said Yang Yi, dean of China's basketball commentators.
"A Chinese player has to give everything he has to survive in the NBA. It is nothing like going on a TV show. Therefore, Zhou must be mentally strong enough."
How to integrate into a new culture is another barrier standing in the way of Zhou's success in the NBA. Everything from food to language becomes a challenge.
Last week, Zhou led Liaoning over Xinjiang in the final at the 13th National Games in Tianjin. He dominated in the paint along with another powerful center, Han Dejun, averaging 14.2 points and 11.5 rebounds during the tournament.
Zhou has spent the past three seasons with the Xinjiang Flying Tigers in the Chinese Basketball Association, leading them to a CBA title while being named defensive player of the year.
Standing 7-foot-1, Zhou weighs only 210 pounds, so he will need to bulk up if he hopes to hold his own against bigger, stronger opposition in North America. Adding about 25 pounds of muscle would seem to be at the top of his training agenda.
"Zhou's height and (7-foot-7) wingspan are his biggest advantages," said Yang.
"Once his strength is improved, with his mobility and defensive acumen, he could reach a higher level."
machi@chinadaily.com.cn