Rockets command record payload of $2.2 billion
HOUSTON - The Houston Rockets have been bought by US restaurant tycoon Tilman Fertitta in a record $2.2 billion deal, the highest price ever paid for an NBA franchise.
Fertitta, a Houston-based billionaire, was one of several potential buyers circling the Rockets, who had been put up for sale by owner Leslie Alexander.
"I am truly honored to have been chosen as the next owner of the Houston Rockets," Fertitta said in a Tuesday release from the team.
"This is a life-long dream come true. Leslie Alexander has been one of the best owners in all of sports, and I thank him immensely for this opportunity. He has the heart of a champion."
Alexander, 73, bought the franchise for $85 million in 1993.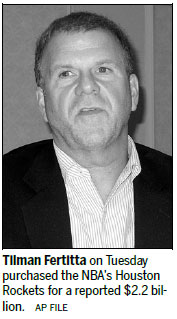 Forbes had valued the franchise in February at $1.65 billion, making it the eighth most-valuable in the NBA, with revenues of $244 million.
"It's been my great joy and honor to own the Houston Rockets for the past 24 years," Alexander said in a statement.
"I've had the incredible opportunity to witness true greatness through the players and coaches who have won championships for the city, been named to All-Star and All-NBA teams, enshrined in the Basketball Hall of Fame, and done so much for our franchise and our fans."
Fertitta, the head of Landry's Inc, a company that includes restaurants, casinos and hotels in its portfolio, has dabbled in sports ownership before.
He was forced to sell a stake in the Houston Texans NFL team when he completed a purchase of the Golden Nugget casinos in Las Vegas.
Alexander, whose reign included NBA championships in 1994 and 1995, said he planned to remain active in Houston.
"The Houston community has been home to me," Alexander said.
"I will continue to support the charities I have made commitments to throughout the years. I'll always have a special place in my heart for the fans, partners, city officials and employees who care so deeply for this team.
"I've made this decision after much deliberation with my family and friends, and do so knowing the franchise is in great shape with the players, coaches and management team in place."
Last week, Alexander donated $4 million of his personal fortune towards relief efforts in the wake of Hurricane Harvey's devastation in Texas.
Agence France-presse
(China Daily 09/07/2017 page23)