Ye rediscovers her resilience
TIANJIN - The comeback Ye Shiwen dreamed about is coming true at the Chinese National Games.
After stumbling in the women's 400m medley, the 2012 Olympic and world champion was able to finally lift the 200m medley title by clocking 2:10.91 - her best time since a disastrous performance at the 2016 Rio Olympics.
"I conquered the fear in me," Ye said after her victory on Sunday night.
"After I lost the 400m, I couldn't sleep. I was well prepared for the race and believed that I was in good shape, but the loss almost crushed me.
"I started to doubt myself again like before. I was so afraid that fear would catch hold of me again."
At the tender age of 21, Ye had already won all the top international competitions in long and short course races. Then she discovered that the higher you soar, the harder you fall.
The fall was made especially conspicuous by her unprecedented early achievements - becoming the youngest Chinese world champion swimmer at 15 (2011) and the first Chinese swimmer to win two gold medals at one Olympics (2012), ahead of all-time superstar Sun Yang, who clinched his second London gold a few days after Ye's victories.
At the 2013 National Games, Ye barely broke a sweat in bagging both the 200m and 400m medley titles. But she's since struggled with problems away from the pool.
She failed to bag a single medal at the 2015 and the 2017 World Championships and last year's Rio Olympics. Sometimes she even failed to make the final. She started to put on weight and had trouble sleeping.
"For the past few years I was at a low ebb. Although my daily training went quite nicely, I couldn't bring it to a full display in competition because I was afraid. I wanted to win as much as I feared to lose," she said.
Ye's coach, Xu Guoyi, once suggested she leave swimming behind and concentrate on completing her university education. She refused.
"I don't want to let it go. I am extremely self-disciplined in life and I work hard. I want to show all my efforts in the competition. I will not give up. I will continue trying until I win again," Ye said.
"Hopefully, this victory at the National Games will be my first step out of my past shadows."
Xinhua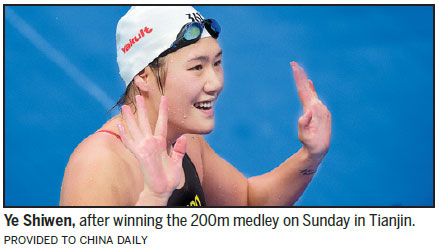 (China Daily 09/06/2017 page22)