Fans can't get enough of effervescent Fu
TIANJIN - One of the major attractions at the 13th National Games in Tianjin is swimmer Fu Yuanhui, an Olympic and world medalist whose loveable character never disappoints fans.
When Fu climbed out of the pool with a victory in women's 100m backstroke on Saturday night, she was already holding back tears and putting on her signature disarming smile to face a flock of reporters.
Only this time, Fu told a touching story about overcoming hardship after she narrowly missed the 50m backstroke title at July's World Championships in Budapest, Hungary, where the 21-year-old finished runner-up in 27.15 seconds - 1/100th of a second shy of defending her title.

Swimmer Fu Yuanhui's facial expressions and colorful phrases have made her one of the most popular Chinese athletes among fans around the world. Xinhua
She burst into tears after the race. "The Budapest setback was such a heavy blow to me. I felt like I dropped to the rock bottom both mentally and physically," Fu said.
"What did I do to deal with it? I trained. I have trained so hard that I collapsed in exhaustion after each day's sessions. I tried to use overbearing training to cover up the pain in my heart."
Fu won millions of fans around the world with her sparkling demeanor at last year's Rio Olympic Games. But what makes her an real sports idol is more than just being funny. Behind those amusing remarks and winsome facial expressions stands an athlete who fights tirelessly to prove herself.
When Fu's training pushed her to such extremes that she did not think she could carry on, she played a little encouraging background music, a song she learned from a Chinese TV series about Qing emperor Kangxi.
"I quietly hummed I Really Want to Live Five Hundred Years when I was in the pool. It was kind of sad and solemn as I told myself 'I can live on and I will not give up," the two-time world champion told reporters.
Her hard work was rewarded with a 100m back gold medal at the National Games.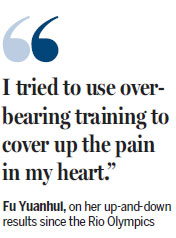 "The time is nothing compared with my previous results, but the win is a lifesaver for me," said Fu, whose time of 59.40 in Tianjin was .64 seconds outside the time that won her a 100m back bronze medal at Rio Olympic Games.
"When I was so lost, I did not give up on myself. Instead I continue to work hard. My experience tells me that every drop of sweat and every effort will eventually come back at some point in the form of a reward."
After finishing her story, Fu turned back to her humorous side, praising the volunteers for their hospitality and saying "it seems that there are stars in their eyes." Earlier, when she was asked to say a few words to her fans, she suggested that everyone eat more meat.
Fu became an instant worldwide celebrity at the Rio Olympics with her overjoyed response in post-swim interviews. After clocking 58.95 in the 100m backstroke semifinal in Rio, she said she "didn't hold back" and "used all of (her) mystic power."
When she learned that she finished tied for third and missed out on silver by 0.01 seconds in the final, she joked that it could be because she had "short arms."
Xinhua
(China Daily 09/05/2017 page23)