Xie torches speedy rivals
The Chinese National Games produced a major surprise on Sunday when Xie Zhenye of Zhejiang clocked 10.04sec to beat favorite Su Bingtian of Guangdong in the men's 100m sprint.
Xie, who specializes in the 200m, finished 0.06sec ahead of Su, who was a finalist at last month's world championships in London.
Jiangsu's Xu Haiyang placed third.
"It's unbelievable that I take my first National Games gold medal. Normally Su and Zhang Peimeng run faster than me, but today I held on to my own rhythm and the strategy worked well," Xie said.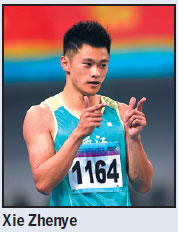 Su considered the loss a motivation, saying: "I lost my rhythm in the race and feel a little regret, but it urges me to work harder in the future."
Defending champion Zhang, who in 2013 became the first Chinese to break the 10sec barrier, finished sixth in his final 100m race.
"To be honest, I am surprised by Xie's performance. He was injured during the World Championships and recovered so well in less than a month. I think this young man has a bright future," said Zhang.
Wei Yongli from Guangxi Zhuang autonomous region won the women's 100m in 11.31.
Xinhua