Donatas Motiejunas to play in China: Lithuanian media
VILNIUS - Lithuanian basketball player Donatas Motiejunas agreed to play at Chinese basketball club Shandong Golden Stars next season, Lithuanian sports media outlets reported on Wednesday.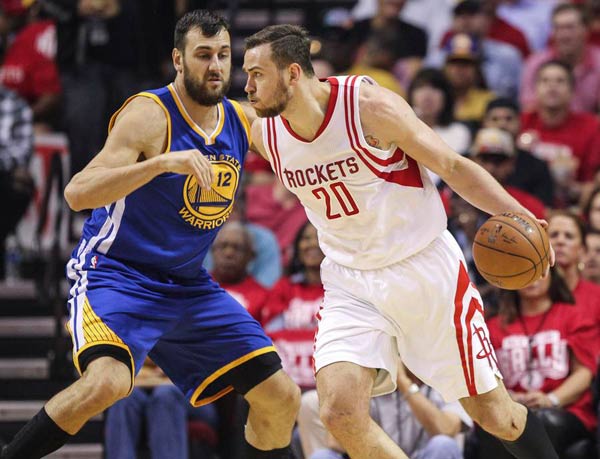 Donatas Motiejunas (20), representing Houston Rockets, dribbles the ball as Golden State Warriors center Andrew Bogut (12) defends during the first quarter in game three of the first round of the NBA Playoffs at Toyota Center in Houston, April 21, 2016.  [Photo/Agencies]
According to basketball news websites 15min.lt and krepsinis.net, 26-year old Lithuania power forward and center Motiejunas has signed a one-year contract with Shandong Golden Stars. Motiejunas with the height of 2.13 meters said the decision to play in China was unexpected for him as well, but the player thought he has made "a right choice".
"However, NBA and Euroleague was a priority. But when the time has come to decide, this was the most attractive proposal. Therefore, I've chosen it," Motiejunas told 15min.lt about signing with the Shandong Golden Stars.
Motiejunas said he had already signed the contract with the Golden Stars. Motiejunas confirmed to 15min.lt that Guangdong Southern Tigers were also interested in having him at the club. Currently, Jonas Kazlauskas, the former head coach of Lithuanian national basketball team, is the head coach of Guangdong Southern Tigers.
However, the proposal from Shandong Golden Stars was "much better", Motiejunas told Lithuanian media.
Recently, the Lithuanian player has been struggling with his career in NBA. The athlete last played for the New Orleans Pelicans. He joined the team only in January this year, following months of complex negotiations with Brooklyn Nets and Houston Rockers where he had played for four seasons. During the last season with the Pelicans, Motiejunas played 34 games averaging 4.4 points and 3 rebounds per game.
"China will be a perfect place for me to rehabilitate myself," says Motiejunas.
Currently, Motiejunas trains with the Lithuanian National Basketball Team to prepare for the European basketball championship starting later this month.